Asociación entre Diabetes Mellitus tipo 2 y la mortalidad en adultos mayores con enfermedad cardiovascular
Resumen
Objetivo: Determinar la asociación entre mortalidad y diabetes mellitus tipo 2  (DM2) en adultos mayores con enfermedad cardiovascular y realizar el análisis ajustando la DM2 con hemoglobina glicosilada (HbA1c). Materiales y métodos: Diseño de estudio tipo cohorte y retrospectivo que analiza secundariamente una base de datos del estudio original Prevalence and Factors Associated with Frailty Among Peruvian Older Adults. No se realizó cálculo del tamaño muestral porque se usaron los datos de los casos que cumplían los criterios de elegibilidad. Resultados: En los adultos mayores con DM2 el riesgo de mortalidad es 10 % mayor que en los pacientes sin DM2. La mayor frecuencia de mortalidad se presenta en varones,  y a mayor número de comorbilidades la mortalidad aumenta. Luego de realizar la regresión de Cox, los factores de riesgo para mortalidad de mayor importancia fueron fragilidad y número de comorbilidades. Conclusiones: La DM2 es un factor de riesgo para mortalidad en adultos mayores con enfermedad cardiovascular en todos los modelos. Además existen otras variables importantes las cuales tienen un impacto directamente proporcional sobre la mortalidad de nuestra población y sobresalen estadísticamente como lo son el número de comorbilidades y la fragilidad, mientras que el antecedente de consumo de tabaco no es significativo. 
##plugins.generic.usageStats.downloads##
##plugins.generic.usageStats.noStats##
Citas
1. GBD 2013 Mortality and Causes of Death Collaborators. Global, regional, and national age–sex specific all-cause and cause-specific mortality for 240 causes of death, 1990–2013; a systemic analysis for the Global Burden of Disease Study 2013. Lancet 2015; 385: 117–171.

2. Núñez Fernández MJ, Paz Esquete J, Castro Paredes B, García García JC, Fraile Amador FJ, López Soto A. Estudio de la población hipertensa muy anciana ingresada en un hospital comarcal. An Med Interna 2006;23:166–72.

3. Kajimoto K, Sato N, Takano T, Investigators of the Acute Decompensated Heart Failure Syndromes (ATTEND) registry. Association of age and baseline systolic blood pressure with outcomes in patients hospitalized for acute heart failure syndromes. Int J Cardiol 2015; 191: 100–106.

4. Kannel WB, MCGee DL. Diabetes and Cardiovascular Disease.The Framingham Study JAMA. 1979 ;241(19):2035-2038 .

5. Stamler J, Vaccaro O, Neaton JD, Wentworth D. Diabetes, other risk factors, and 12- yr cardiovascular mortality for men screened in the Multiple Risk Factor Intervention Trial. Diabetes Care 1993;16:434-444.

6. Rodríguez-Gutiérrez et al. Glycemic Control for Patients With Type 2 Diabetes Mellitus. Circ Cardiovasc Qual Outcomes September 2016.

7. Wang M, Li T, Li C, Liu C, Lin W, Lin C et al. Frailty, transition in frailty status and all-cause mortality in older adults of a Taichung community-based population [Internet]. 2019. Disponible en: https://bmcgeriatr.biomedcentral.com/articles/10.1186/s12877-019-1039-9

8. Diabetes care targets in older persons. - PubMed - NCBI [Internet]. Ncbi.nlm.nih.gov. 2019. Disponible en: https://care.diabetesjournals.org/content/42/Supplement_1/S139.full-text.pdf

9. Blaum C, Cigolle C, Boyd C, Wolff J, Tian Z, Langa K et al. Clinical Complexity in Middle-Aged and Older Adults With Diabetes [Internet]. 2010 [citado 4 noviembre 2019]. Disponible en: https://www.ncbi.nlm.nih.gov/pmc/articles/PMC3153504/pdf/nihms312167.pdf

10. NGSP. Factors that interfere with HbA1c test results [Internet], 2016. Disponible en: http:// www.ngsp.org/factors.asp. Acceso 4 de noviembre 2019.

11. M. Runzer-Colmenares et 72 al. Prevalence and factors associated with frailty among Peruvian older adults.Archives of Gerontology and Geriatrics 58 (2014) 69–73.

12. White, W., Kupfer, S., et al., Cardiovascular Mortality in Patients With Type 2 Diabetes and Recent Acute Coronary Syndromes From the EXAMINE Trial. Diabetes Care Volume 39, July 2016. / Lee et al., Cardiovascular Events in Diabetic and Nondiabetic Adults With or Without History of Myocardial Infarction. Circulation February 24, 2004.

13. Guralnik JM, Simonsick EM, Ferrucci L, et al. A short physical performance battery assessing lower extremity function: association with self-reported disability and prediction of mortality and nursing home admission. J Gerontol.1994;49(2):M85-M94.

14. HAMILTON M. THE ASSESSMENT OF ANXIETY STATES BY RATING [Internet]. 1959 [citado 27 Octubre del 2019].Disponble en: https://onlinelibrary.wiley.com/doi/abs/10.1111/j.2044-8341.1959.tb00467.x

15. Theou O, Brothers T, Mitnitski A, Rockwood K. Operationalization of Frailty Using Eight Commonly Used Scales and Comparison of Their Ability to Predict All-Cause Mortality. 2013.

16. Noe¨l C. Barengo, et al. The diabetes-cardiovascular risk paradox: results from a Finnish population-based prospective study. European Heart Journal (2008) 29, 1889–1895.

17. Gu K, Cowie CC, Harris MI. Diabetes and decline in heart disease mortality in US adults. JAMA 1999; 281: 1291-1297 [PMID: 10208144 DOI: 10.1001/jama.281.14.1291].

18. Garcia MJ, McNamara PM, Gordon T, et al: Morbidity and mortality in diabetics in the Framingham population. Sixteen year follow-up study. Diabetes 1974;23:105-111.

19. Chi M, Liang C, Lee W, Peng L, Chou M, Chen L. Association of new-onset diabetes mellitus in older people and mortality in Taiwan: A 10-year nationwide population-based study. 2017.

20. Martín-Timón I et al . Type 2 diabetes mellitus and cardiovascular disease. August 15, 2014. Volume 5.Issue 4.

21. Wan, E.Y.F., et al., Association of variability in hemoglobin A1c with cardiovascular diseases and mortality in Chinese patients with type 2 diabetes m..., Journal of Diabetes and Its Complications (2016), http://dx.doi.org/10.1016/j.jdiacomp.2016.05.024

22. Pan A, Wang Y, Talaei M, Hu F. Relation of Smoking With Total Mortality and Cardiovascular Events Among Patients With Diabetes Mellitus. 2015.

23. Tong B, Stevenson C. Comorbidity of cardiovascular disease, diabetes and chronic kidney disease in Australia. Australian Institute of Health and Welfare 2007.

24. A. Farooqi a, et al. Comorbid depression and risk of cardiac events and cardiac mortality in people with diabetes: A systematic review and meta-analysis. Diabetes Research and Clinical Practice 156 (2019) 107816.

25. Hubbard R, Andrew M, Fallah N, Rockwood K. Comparison of the prognostic importance of diagnosed diabetes, co-morbidity and frailty in older people [Internet]. 2010 [citado 2 Enero 2020]. Disponible en: https://onlinelibrary.wiley.com/doi/abs/10.1111/j.1464-5491.2010.02977.x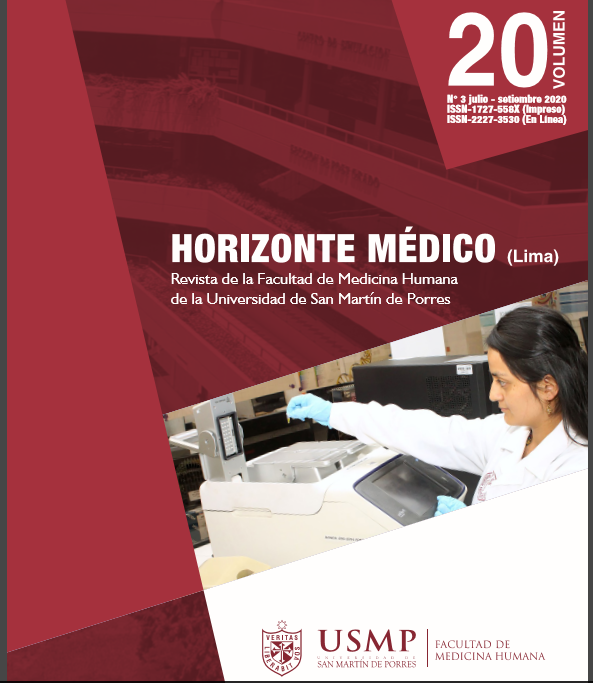 Sección
ARTÍCULOS ORIGINALES
Esta obra está bajo licencia internacional
Creative Commons Reconocimiento 4.0
.
El contenido de la Revista Horizonte Médico es de libre acceso, de manera gratuita, con el fin de divulgar los trabajos y experiencias desarrolladas en el área biomédica y de salud pública realizados a nivel nacional e internacional, promoviendo la investigación en los diferentes campos de la medicina humana.

La Revista Horizonte Médico mantiene los derechos de autoría, distribución y reproducción de los artículos publicados.

Todos los artículos aceptados y publicados en la Revista Horizonte Médico se distribuyen gratuitamente bajo los términos de la licencia Creative Commons Attribution 4.0 International (CC BY 4.0).