Biofilm fúngico asociado a dispositivo intravascular de larga permanencia: Complicaciones y dificultades terapéuticas
Resumen
Las infecciones fúngicas asociadas a biofilms en dispositivos biomédicos son refractarias al tratamiento antifúngico y habitualmente se requiere del retiro oportuno del dispositivo, así como la administración de antifúngicos sistémicos. Presentamos el caso de una paciente mujer de 36 años que recibe terapia para el dolor administrada por dispositivo intravascular de larga permanencia, catéter Port-A-Cath, y que desarrolló candidemia y endocarditis por Candida parapsilosis asociada al catéter; el cual tuvo que ser retirado mediante toracotomía por persistencia de la infección a pesar de la terapia antifúngica sistémica. Se evidenció extenso biofilm rodeando al catéter, con aislamiento de Candida parapsilosis y se completaron seis semanas de tratamiento antifúngico con evolución clínica favorable.
##plugins.generic.usageStats.downloads##
##plugins.generic.usageStats.noStats##
Citas
1. Yousif A., Jamal M.A., Raad I. (2015) Biofilm-Based Central Line-Associated Bloodstream Infections. In: Donelli G. (eds) Biofilm-based Healthcare-associated Infections. Advances in Experimental Medicine and Biology, vol 830. Springer, Cham. DOI: 10.1007/978-3-319-11038-7_10.

2. Lebeaux D, Fernández-Hidalgo N, Chauhan A, Lee S, Ghigo J, et al. Management of infections related to totally implantable venous-access ports: challenges and perspectives. Lancet Infect Dis. 2014 Feb;14(2):146-59.

3. Biffi R. (2012) History of Vascular Access. In: Di Carlo I., Biffi R. (eds) Totally Implantable Venous Access Devices. Springer, Milano. DOI: 10.1007/978-88-470-2373-4_1.

4. Pozo JL, Cantón E. Candidiasis asociada a biopelículas. Rev Iberoam Micol 2016; 33:176-83.

5. Bujdáková H. Management of Candida biofilms: state of knowledge and new options for prevention and eradication.. Future Microbiol. 2016;11(2):235-51.

6. Kojic EM, Darouiche RO. Candida Infections of Medical Devices. Clinical Microbiology Reviews. 2004;17(2):255-267.

7. Høiby et al. ESCMID Biofilm guideline. Clin Microbiol Infect 2015; 21: S1–S25.

8. Devrim I, et al. A Single Center's Experience with Candida parapsilosis Related Long-Term Central Venous Access Device Infections: The Port Removal Decision and Its Outcomes. Pediatr Hematol Oncol. 2014;31(5):435-41.

9. Rodriguez L, Bustamante B, Huaroto L, Agurto C, Illescas R, Ramirez R, et al. A multi-centric Study of Candida bloodstream infection in Lima-Callao, Peru: Species distribution, antifungal resistance and clinical outcomes. PLoS ONE 2017,12(4): e0175172.

10. Hirota K, Yumoto H, Sapaar B, Matsuo T, Ichikawa T, Miyake, Y. Pathogenic factors in Candida biofilm-related infectious diseases. J Appl Microbiol 2017;122: 321–330.

11. Nett J, Lincoln L, Marchillo K et al. Putative role of beta-1,3 glucans in Candida albicans biofilm resistance. Antimicrob. Agents Chemother. 2007;51(2), 510–520.

12. Fernández-Ruiz et al. Initial Use of Echinocandins Does Not Negatively Influence Outcome in Candida parapsilosis Bloodstream Infection: A Propensity Score Analysis. Clinical Infectious Diseases 2014;58(10):1413–21

13. Pappas P, Kauffman C, Andes D, Clancy C, Marr K, Ostrosky- Zeichner L, et al. Clinical Practice Guideline for the Management of Candidiasis: 2016 Update by the Infectious Diseases Society of America. Clin Infect Dis 2016; 62 (4): e1- e50.

14. Cuenca-Estrella et al. ESCMID* guideline for the diagnosis and management of Candida diseases 2012: diagnostic procedures. Clin Microbiol Infect 2012; 18(7): 9–18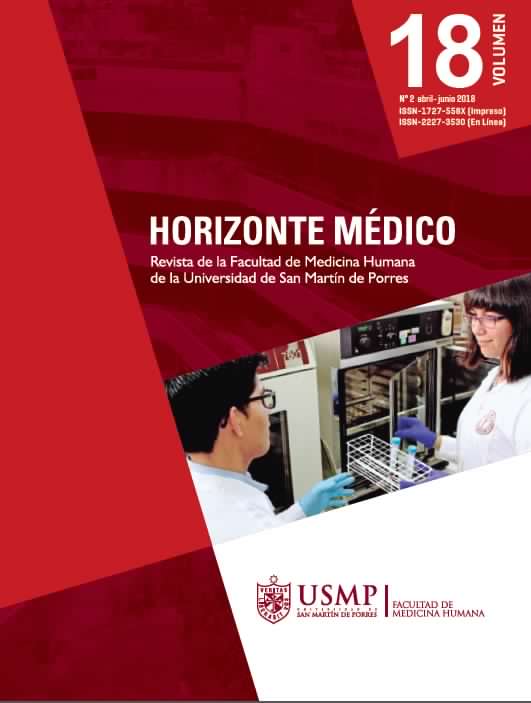 El contenido de la Revista Horizonte Médico es de libre acceso, de manera gratuita, con el fin de divulgar los trabajos y experiencias desarrolladas en el área biomédica y de salud pública realizados a nivel nacional e internacional, promoviendo la investigación en los diferentes campos de la medicina humana.

La Revista Horizonte Médico mantiene los derechos de autoría, distribución y reproducción de los artículos publicados.

Todos los artículos aceptados y publicados en la Revista Horizonte Médico se distribuyen gratuitamente bajo los términos de la licencia Creative Commons Attribution 4.0 International (CC BY 4.0).