Análisis de la mortalidad perinatal en Lima Norte: uso del método BABIES
Resumen
Objetivo: Identificar la "Brecha de Oportunidad" mediante el método BABIES con el empleo de tasas de mortalidad perinatal. Materiales y métodos: Se realizó un estudio descriptivo transversal con la Base de datos de Vigilancia Epidemiológica Perinatal y Neonatal. Se determinó las tasas de mortalidad perinatal por distritos y por áreas de posible intervención según método BABIES. Resultados: La tasa de mortalidad más baja se encontró en el distrito de Independencia (6,1 por 100 nacimientos vivos en 2014, y 5,9 en 2015, respectivamente). El área prioritaria de intervención en el distrito de Comas fue salud materna, y en Carabayllo, Cuidado durante el embarazo. Conclusiones: El método BABIES permite identificar la Brecha de Oportunidad para poder dirigir intervenciones a nivel local.
##plugins.generic.usageStats.downloads##
##plugins.generic.usageStats.noStats##
Citas
1. World Health Organization. Neonatal and Perinatal Mortality [Internet]. Ginebra: WHO; 2006.

2. Instituto Nacional de Estadística e Informática. Encuesta Demográfica y de Salud Familiar 2017 [Internet]. ENDES 2017. pp. 217–22. Disponible en: https://www.inei.gob.pe/media/ MenuRecursivo/publicaciones_digitales/Est/Lib1525/index. html

3. Instituto Nacional de Salud. Prioridades Nacionales de Investigación 2015-2021 [Internet]. Lima: INEI; 2014. Disponible en: http://www.portal.ins.gob.pe/es/prioridades- de-investigacion-en-salud

4. Ministerio de Salud. Subsistema Nacional de Vigilancia Epidemiológica Perinatal y Neonatal [Internet]. Lima: MINSA, Direccion General de Epidemiologia, 2009. Disponible en: http://bvs.minsa.gob.pe/local/minsa/1014_OGE153.pdf

5. Lawn JE, McCarthy BJ, Rae Ross S. The Healthy Newborn: A Newborn Health Management Information System 2. CDC. 2002.

6. Kilonzo A, Kouletio M, McCarthy BJ. Whitehead SJ, Curtis KM. Improving surveillance for maternal and perinatal health in 2 districts of rural Tanzania. Am J Public Health. 2001;91(10):1636–40.

7. Wuhib T, Mccarthy BJ, Chorba TL, Sinitsina TA, Ivasiv I V, Mcnabb SJN, Underestimation of infant mortality rates in one republic of the former Soviet Union. Pediatrics. 2003;111(5 Pt 1):e596-600.

8. Dunlop AL, McCarthy BJ, Freymann GR, Smith CK, Bugg GW, Brann AW. Analysis of feto-infant mortality using the BABIES framework: Georgia 1981-83 through 2001-03. Int J Health Res. 2010;(3):153-63.

9. Stratulat P, Curteanu A, Caraus T, Petrov V, Gardosi J. The experience of the implementation of perinatal audit in Moldova. BJOG. 2014;121(4):167–71.

10. Romero Ramos C, Grajeda Ancca P, Ávila Alatrista J. Análisis de la mortalidad perinatal en Hospitales de la DISA Cusco a partir de la matriz babies 2003. Rev Peru Pediatr. 2004;57(3):28-37

11. Sappenfield WM, Peck MG, Gilbert CS, Haynatzka VR, Bryant T. Perinatal periods of Risk: Analytic preparation and phase 1 analytic methods for investigating feto-infant mortality. Matern Child Health J. 2010;14(6):838–50.

12. Kothari CL, Romph C, Bautista T, Lenz D. Perinatal Periods of Risk Analysis: Disentangling Race and Socioeconomic Status to Inform a Black Infant Mortality Community Action Initiative. Matern Child Health J. 2017;21(Suppl1):49–58.

13. Cai J, Hoff GL, Dew PC, Guillory VJ, Manning J. Perinatal Periods of Risk: Analysis of Fetal–Infant Mortality Rates in Kansas City, Missouri. Matern Child Health J. 2005;9(2):199–205.

14. ENDES. Perú: Encuesta Demográfica y de Salud Familiar 2014. Encuesta Demográfica y Salud Fam; 2015.

15. MINSA. Plan estratégico nacional para la reducción de la mortalidad materna y perinatal 2009-2015. 2009.

16. Merali HS, Lipsitz S, Hevelone N, Gawande. AA, Lashoher A, Agrawal P, et al. Audit-identified avoidable factors in maternal and perinatal deaths in low resource settings: a systematic review. BMC Pregnancy Childbirth. 2014; 14:280.

17. Paccaud F, Martin-Béran B, Gutzwiller F. Hour of Birth As a Prognostic Factor for Perinatal Death. Lancet. 1988;331(8581):340–3.

18. Mgaya A, Hinju J, Kidanto H. Is time of birth a predictor of adverse perinatal outcome? A hospital-based cross- sectional study in a low-resource setting, Tanzania. BMC Pregnancy Childbirth. 2017;17(1):184.

19. Caughey AB, Urato AC, Lee KA, Thiet MP, Washington AE, Laros RK. Time of delivery and neonatal morbidity and mortality. Am J Obstet Gynecol. 2008;199(5):496:e1-5.

20. Ticona RM, Huanco AD. Mortalidad Perinatal Hospitalaria en el Perú : Factores de Riesgo. Rev Chil Obstet Ginecol. 2005; 70:313–7.

21. Flenady V, Middleton P, Smith GC, Duke W, Erwich JJ, Khong TY, et al. Stillbirths: The way forward in high-income countries. Lancet. 2011; 377(9778):1703–17.

22. Aminu M, Unkels R, Mdegela M, Utz B, Adaji S, van den Broek N. Causes of and factors associated with stillbirth in low- and middle-income countries: a systematic literature review. BJOG. 2014;121:141–53.

23. Espíritu N, Sacieta L, Pantoja L. Discrepancias en el registro de la mortalidad perinatal en Lima y Callao según fuente de información. Rev Perú Med Exp Salud Publica. 2007;24(4):363–9.

24. Nijkamp JW, Sebire NJ, Bouman K, Korteweg FJ, Erwich JJHM, Gordijn SJ. Perinatal death investigations: What is current practice?. Semin Fetal Neonatal Med. 2017;22(3):167–75.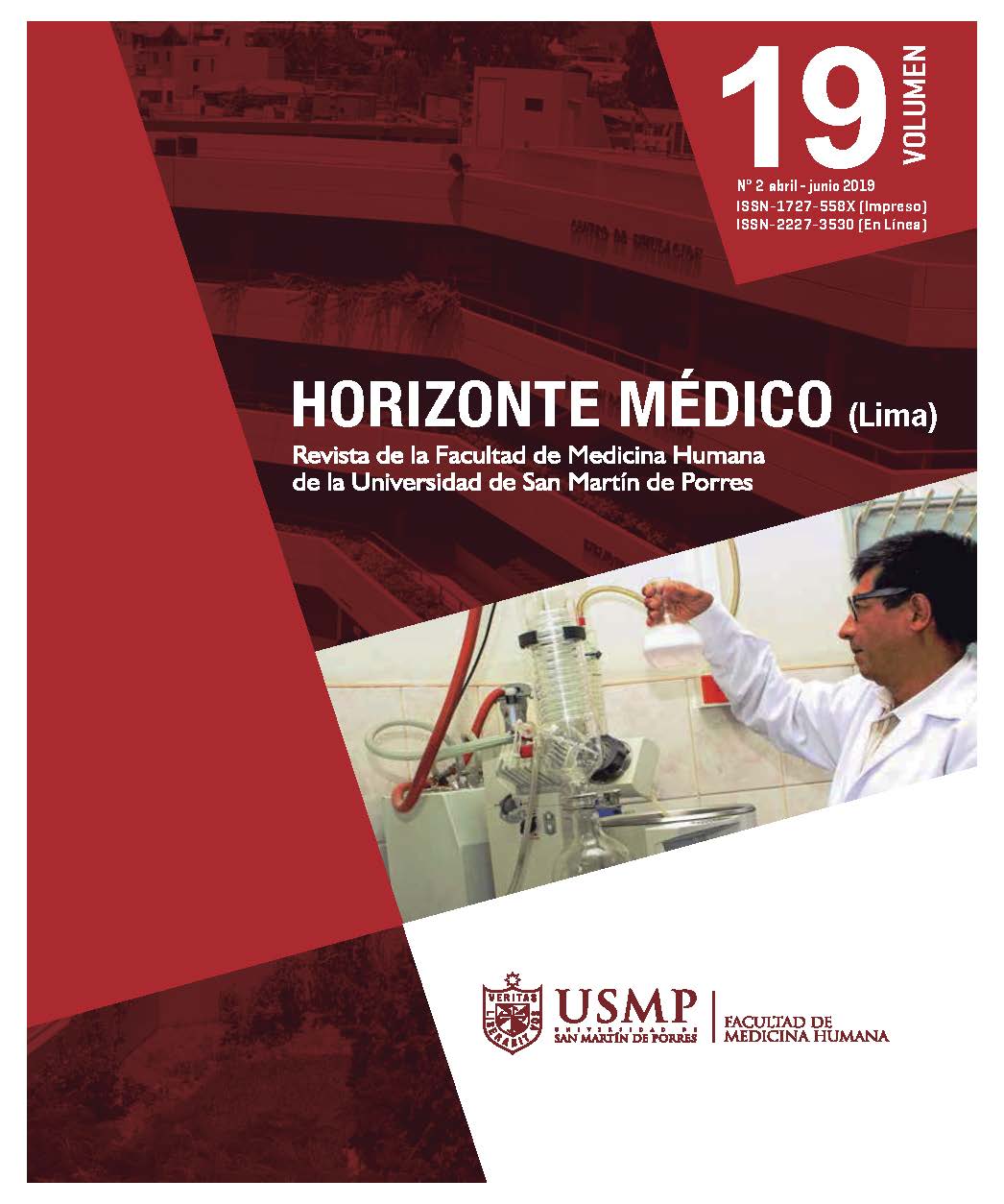 Sección
ARTÍCULOS ORIGINALES
El contenido de la Revista Horizonte Médico es de libre acceso, de manera gratuita, con el fin de divulgar los trabajos y experiencias desarrolladas en el área biomédica y de salud pública realizados a nivel nacional e internacional, promoviendo la investigación en los diferentes campos de la medicina humana.

La Revista Horizonte Médico mantiene los derechos de autoría, distribución y reproducción de los artículos publicados.

Todos los artículos aceptados y publicados en la Revista Horizonte Médico se distribuyen gratuitamente bajo los términos de la licencia Creative Commons Attribution 4.0 International (CC BY 4.0).