Paciente adulto con diabetes mellitus tipo 1: múltiples factores para lograr un control adecuado. Reporte de caso
Palabras clave:
Diabetes mellitus tipo 1, Cumplimiento y adherencia al tratamiento, Automonitorización de la glucosa sanguínea
Resumen
La diabetes mellitus tipo 1 (DM1) es una de las enfermedades crónicas más comunes de la infancia; sin embargo, un gran número de pacientes adultos viven con esta condición. La terapia con insulina es el pilar del tratamiento. Otros aspectos importantes son fomentar un estilo de vida saludable y lograr la adherencia a la medicación. Se presenta el caso de una mujer de 29 años con diagnóstico de diabetes mellitus tipo 1 hace 15 años. Describimos el manejo y evolución de los últimos 5 años y destacamos la importancia de las nuevas tecnologías, como el monitoreo continuo de glucosa, además de factores como la adherencia al tratamiento y el soporte familiar, los cuales fueron particularmente importantes para el control de la enfermedad de la paciente.
Descargas
Los datos de descargas todavía no están disponibles.
Citas
Atkinson MA, Eisenbarth GS, Michels AW. Type 1 diabetes. Lancet. 2014; 383(9911): 69-82.
Jaser SS. Family interaction in pediatric diabetes. Curr Diab Rep. 2011; 11(6): 480–5.
Freeborn D, Dyches T, Roper SO. Lessons Learned from a life with type 1 diabetes: adult perspectives. Diabetes Spectr. 2017; 30(3): 188-94.
Dhaliwal R, Weinstock RS. Management of type 1 diabetes in older adults. Diabetes Spectr. 2014; 27(1): 9–20.
Cho NH, Shaw JE, Karuranga S, Huang Y, da Roche Fernandes JD, Ohlrogge AW, et al. IDF diabetes atlas: global estimates of diabetes prevalence for 2017 and projections for 2045. Diabetes Res Clin Pract. 2018; 138: 271-81.
Karvonen M, Viik-Kajander M, Moltchanova E, Libman I, Laporte R, Tuomilehto J. Incidence of childhood type 1 diabetes worldwide. Diabetes Mondiale (DiaMond) Project Group. 2000; 23(10): 1516-26.
Seclén S, Rojas MI. Diabetes Mellitus Tipo 1 en población infantil peruana. Diagnóstico. 2002; 41(2): 54-62.
Lind M, Svensson A-M, Rosengren A. Glycemic control and excess mortality in type 1 diabetes. N Engl J Med. 2015; 372(9): 880-1.
American Diabetes Association. Standards of Medical Care in Diabetes-2018. Abridged for Primary Care Providers. Clin Diabetes. 2018; 36(1): 14-37.
Palmezano-Díaz JM, Figueroa-Pineda CL, Rodríguez R, Plazas-Rey L, Corredor-Guzmán K, Pradilla-Suárez LP, et al. Características clínicas y sociodemográficas de pacientes con diabetes tipo 1 en un Hospital Universitario de Colombia. Med Int Méx. 2018; 34(1): 46-56.
Bzowyckyj A. Updates and advances in technology for diabetes selfmanagement. Pharmacy Today. 2019; 25(5): 43-58.
Foster NC, Beck RW, Miller KM, Clements MA, Rickels MR, DiMeglio LA, et al. State of type 1 diabetes management and outcomes from the T1D exchange in 2016–2018. Diabetes Technol Ther. 2019; 21(2): 66–72.
Hortensius J, Kars MC, Wierenga WS, Kleefstra N, Bilo HJ, van der Bijl JJ. Perspectives of patients with type 1 or insulin-treated type 2 diabetes on self-monitoring of blood glucose: a qualitative study. BMC Public Health. 2012; 12(1): 167.
NICE Guideline 18 [NG18]. Diabetes (type 1 and type 2) in children and young people: diagnosis and management. Methods, evidence and recommendations. 2016.
Vehik K, Dabelea D. The changing epidemiology of type 1 diabetes: why is it going through the roof?. Diabetes Metab Res Rev. 2011; 27(1): 3-13.
Katz M, Laffel L. Mortality in type 1 diabetes in the current era: two steps forward, one step backward. JAMA. 2015; 313(1): 35-6.
Lind M, Pivodic A, Svensson A-M, Ólafsdóttir AF, Wedel H, Ludvigsson J. HbA 1c level as a risk factor for retinopathy and nephropathy in children and adults with type 1 diabetes: Swedish population based cohort study. BMJ. 2019; 366: 14894.
Chiang JL, Maahs DM, Garvey KC, Hood KK, Laffel LM, Weinzimer SA, et al. Type 1 diabetes in children and adolescents: a position statement by the American Diabetes Association. Diabetes Care. 2018; 41(9): 2026-44
Juvenile Diabetes Research Foundation Continuous Glucose Monitoring Study Group, Tamborlane WV, Beck RW, Bode BW, Buckingham B, Chase HP, et al. Continuous glucose monitoring and intensive treatment of type 1 diabetes. N Engl J Med. 2008; 359(14): 1464-76
Evans M, Welsh Z, Ells S, Seibold A. The impact of flash glucose monitoring on glycaemic control as measured by HbA1c: a metaanalysis of clinical trials and real-world observational studies. Diabetes Ther. 2020; 11(1): 83-95.
Turton JL, Raab R, Rooney KB. Low-carbohydrate diets for type 1 diabetes mellitus: a systematic review. PLoS One. 2018; 13(3): e0194987.
Quirk H, Blake H, Tennyson R, Randell TL, Glazebrook C. Systematic review or meta-analysis physical activity interventions in children and young people with type 1 diabetes mellitus: a systematic review with meta-analysis. Diabet Med. 2014; 31(1): 1163-73.
Goethals ER, Oris L, Soenens B, Berg CA, Prikken S, Broeck NV, et al. Parenting and treatment adherence in type 1 diabetes throughout adolescence and emerging adulthood. J Pediatr Psychol. 2017; 42(9): 922–32.
Henríquez-Tejo R, Cartes-Velásquez R. Psychosocial impact of type 1 diabetes mellitus in children, adolescents and their families. Literature review. Rev Chil Pediatr. 2018; 89(3): 391-8.
Lesley Lowes, Eddy D, Channon S, McNamara R, Robling M, Gregory JW, et al. The experience of living with type 1 diabetes and attending clinic from the perception of children, adolescents and carers: analysis of qualitative data from the DEPICTED study. J Pediatr Nurs. 2015; 30(1): 54-62.
Goethals ER, de Wit M, Van Broeck N, Lemiere J, Van Liefferinge D, Bohler S, et al. Child and parental executive functioning in type 1 diabetes: Their unique and interactive role toward treatment adherence and glycemic control. Pediatr Diabetes. 2018; 19(3): 520-6.
Beck RW, Bergenstal RM, Laffel LM, Pickup JC. Advances in technology for management of type 1 diabetes. Lancet. 2019; 394(10205): 1265-73.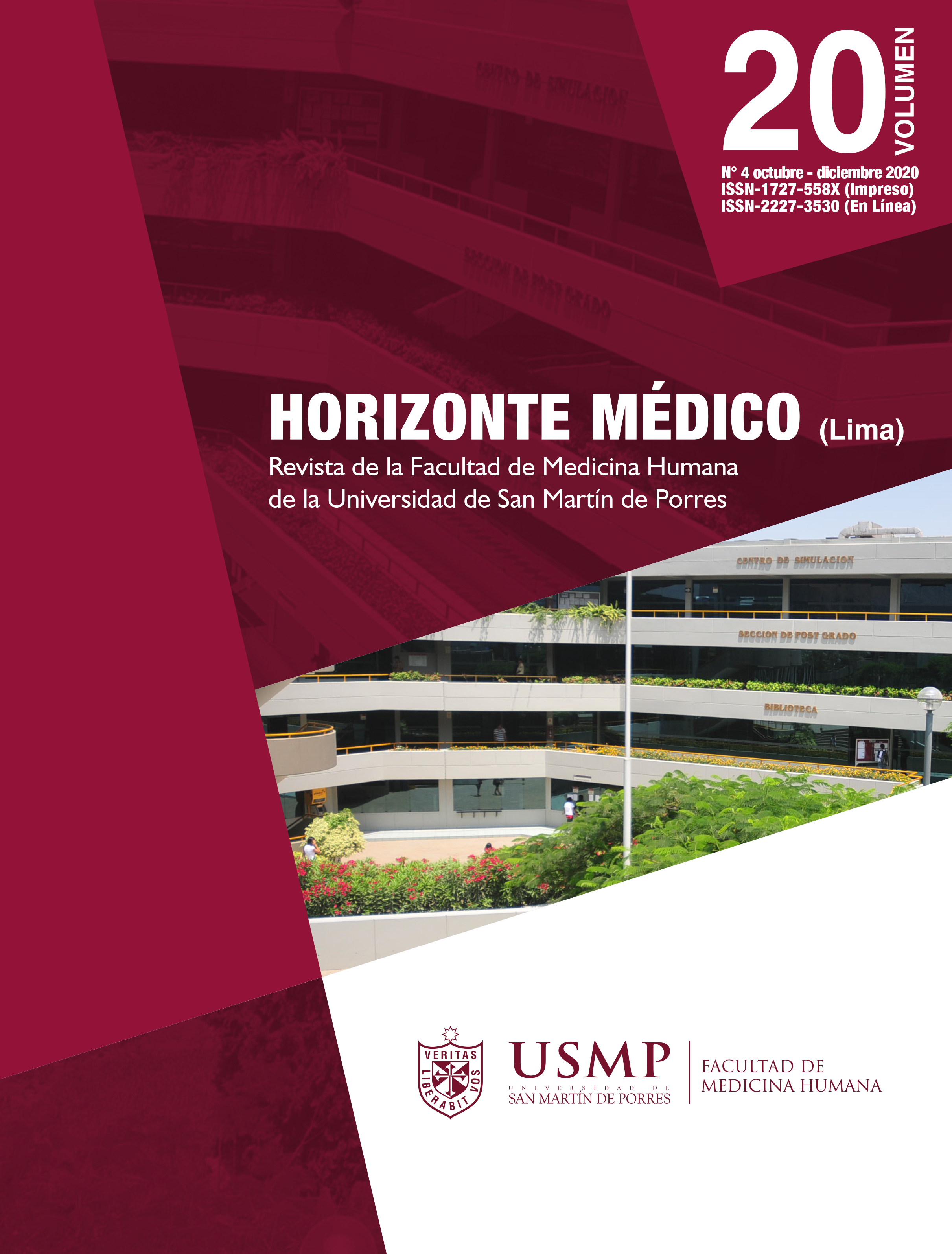 Cómo citar
1.
Lizarzaburu Robles JC, Vera Ortiz JM, Chia Gonzales SG. Paciente adulto con diabetes mellitus tipo 1: múltiples factores para lograr un control adecuado. Reporte de caso. Horiz Med [Internet]. 28 de diciembre de 2020 [citado 29 de enero de 2023];20(4):e1166. Disponible en: https://www.horizontemedico.usmp.edu.pe/index.php/horizontemed/article/view/1166
Licencia
Derechos de autor 2020 Juan Carlos Lizarzaburu Robles, Juliana María Vera Ortiz, Sonia Gisella Chia Gonzales
Esta obra está bajo una licencia internacional Creative Commons Atribución 4.0.
El contenido de la Revista Horizonte Médico es de libre acceso, de manera gratuita, con el fin de divulgar los trabajos y experiencias desarrolladas en el área biomédica y de salud pública realizados a nivel nacional e internacional, promoviendo la investigación en los diferentes campos de la medicina humana.

La Revista Horizonte Médico mantiene los derechos de autoría, distribución y reproducción de los artículos publicados.

Todos los artículos aceptados y publicados en la Revista Horizonte Médico se distribuyen gratuitamente bajo los términos de la licencia Creative Commons Attribution 4.0 International (CC BY 4.0).