Presencia de SARS-COV-2 en semen de hombres con COVID-19: revisión sistemática
Palabras clave:
Semen, Infecciones por Coronavirus, Análisis de Semen
Resumen
La pandemia de la COVID-19 ha causado un impacto aún desconocido en la salud reproductiva masculina. Por ello, el objetivo de esta revisión fue recolectar evidencia para descubrir si el agente causante de la COVID-19 puede encontrarse en el semen. La búsqueda se realizó en las bases de datos PubMed, BVS y Google Scholar, e incluyó los artículos que mostraban los resultados del análisis de semen realizado para encontrar el virus SARS-CoV-2 en hombres diagnosticados con COVID-19. Once estudios fueron seleccionados para esta revisión que aportaron 296 muestras. De ellas, solo el 2,70 % fueron positivas. Además, se encontraron resultados mixtos respecto a la morfología de los espermatozoides, y también pacientes con azoospermia u oligospermia. Este último hallazgo podría ser consecuencia del elevado número de receptores de la enzima convertidora de angiotensina 2 (ECA 2) que existen en los testículos, lo que hace a estos órganos un blanco del virus SARS-CoV-2. Se concluye que debido al limitado número de estudios y muestras aún no es posible responder la pregunta de estudio planteada.
Descargas
Los datos de descargas todavía no están disponibles.
Citas
World Health Organization. Novel Coronavirus (2019-nCoV): situation report, 1 [Internet]. WHO; 2020. Disponible en: https://apps.who.int/iris/handle/10665/330760
Li Q, Guan X, Wu P, Wang X, Zhou L, Tong Y, et al. Early transmission dynamics in Wuhan, China, of novel Coronavirus-infected pneumonia. N Engl J Med. 2020; 382(13): 1199-207.
Burke RM, Midgley CM, Dratch A, Fenstersheib M, Haupt T, Holshue M, et al. Active monitoring of persons exposed to patients with confirmed COVID-19 - United States, January-February 2020. MMWR Morb Mortal Wkly Rep. 2020; 69(9): 245-6.
Organización Mundial de la Salud. Vías de transmisión del virus de la COVID-19: repercusiones para las recomendaciones relativas a las precauciones en materia de prevención y control de las infecciones [Internet]. OMS; 2020. Disponible en: https://www.who.int/es/news-room/commentaries/detail/modes-of-transmission-of-virus-causing-covid-19-implications-for-ipc-precaution-recommendations
Peng L, Liu J, Xu W, Luo Q, Chen D, Lei Z, et al. SARS-CoV-2 can be detected in urine, blood, anal swabs, and oropharyngeal swabs specimens. J Med Virol. 2020; 92(9): 1676-80.
Wang W, Xu Y, Gao R, Lu R, Han K, Wu G, et al. Detection of SARS-CoV-2 in different types of clinical specimens. JAMA. 2020; 323(18): 1843-4.
Yan Y, Chang L, Wang L. Laboratory testing of SARS-CoV, MERS-CoV, and SARS-CoV-2 (2019-nCoV): Current status, challenges, and countermeasures. Rev Med Virol. 2020; 30(3): e2106.
Xu J, Qi L, Chi X, Yang J, Wei X, Gong E, et al. Orchitis: a complication of severe acute respiratory syndrome (SARS). Biol Reprod. 2006; 74(2): 410-6.
Guan WJ, Ni ZY, Hu Y, Liang WH, Ou CQ, He JX, et al. Clinical characteristics of Coronavirus Disease 2019 in China. N Engl J Med. 2020; 382(18): 1708-20.
Mangia C, Russo A, Civitelli S, Gianicolo EAL. Sex/gender differences in COVID-19 lethality: what the data say, and do not say. Epidemiol Prev. 2020; 44(5-6 Suppl 2): 400-6.
Bwire GM. Coronavirus: Why men are more vulnerable to Covid-19 than women?. SN Compr Clin Med. 2020; 1-3.
Salam AP, Horby PW. The breadth of viruses in human semen. Emerg Infect Dis. 2017; 23(11): 1922-4.
Mansuy JM, Suberbielle E, Chapuy-Regaud S, Mengelle C, Bujan L, Marchou B, et al. Zika virus in semen and spermatozoa. Lancet Infect Dis. 2016; 16(10): 1106-7.
Brainard J, Pond K, Hooper L, Edmunds K, Hunter P. Presence and persistence of Ebola or Marburg virus in patients and survivors: A rapid systematic review. PLoS Negl Trop Dis. 2016; 10(2): e0004475.
Zhao S, Zhu W, Xue S, Han D. Testicular defense systems: immune privilege and innate immunity. Cell Mol Immunol. 2014; 11(5): 428-37.
Munn Z, Peters MDJ, Stern C, Tufanaru C, McArthur A, Aromataris E. Systematic review or scoping review? Guidance for authors when choosing between a systematic or scoping review approach. BMC Med Res Methodol. 2018; 18(1): 143.
Moher D, Liberati A, Tetzlaff J, Altman DG, The PRISMA Group. Preferred reporting items for systematic reviews and meta-analyses: the PRISMA statement. PLoS Med. 2009; 6(7): e1000097.
Kayaaslan B, Korukluoglu G, Hasanoglu I, Kalem AK, Eser F, Akinci E, et al. Investigation of SARS-CoV-2 in semen of patients in the acute stage of COVID-19 infection. Urol Int. 2020; 104(9–10): 678-83.
Pan F, Xiao X, Guo J, Song Y, Li H, Patel DP, et al. No evidence of severe acute respiratory syndrome-coronavirus 2 in semen of males recovering from coronavirus disease 2019. Fertil Steril. 2020; 113(6): 1135-9.
Holtmann N, Edimiris P, Andree M, Doehmen C, Baston-Buest D, Adams O, et al. Assessment of SARS-CoV-2 in human semen-a cohort study. Fertil Steril. 2020; 114(2): 233-8.
Li D, Jin M, Bao P, Zhao W, Zhang S. Clinical characteristics and results of semen tests among men with Coronavirus disease 2019. JAMA Netw Open. 2020; 3(5): e208292.
Paoli D, Pallotti F, Colangelo S, Basilico F, Mazzuti L, Turriziani O, et al. Study of SARS-CoV-2 in semen and urine samples of a volunteer with positive naso-pharyngeal swab. J Endocrinol Invest. 2020; 43(12): 1819-22.
Temiz MZ, Dincer MM, Hacibey I, Yazar RO, Celik C, Kucuk SH, et al. Investigation of SARS-CoV-2 in semen samples and the effects of COVID-19 on male sexual health by using semen analysis and serum male hormone profile: A cross-sectional, pilot study. Andrologia. 2021; 53(2): e13912.
Guo L, Zhao S, Li W, Wang Y, Li L, Jiang S, et al. Absence of SARS-CoV-2 in semen of a COVID-19 patient cohort. Andrology. 2021; 9(1): 42-7.
Burke CA, Skytte AB, Kasiri S, Howell D, Patel ZP, Trolice MP, et al. A cohort study of men infected with COVID-19 for presence of SARS-CoV-2 virus in their semen. J Assist Reprod Genet. 2021; 38(4): 785-9.
Machado B, Barra GB, Scherzer N, Massey J, Luz HDS, Jacomo RH, et al. Presence of SARS-CoV-2 RNA in semen-cohort study in the United States COVID-19 positive patients. Infect Dis Rep. 2021; 13(1): 96-101.
Gacci M, Coppi M, Baldi E, Sebastianelli A, Zaccaro C, Morselli S, et al. Semen impairment and occurrence of SARS-CoV-2 virus in semen after recovery from COVID-19. Hum Reprod. 2021; 36(6): 1520-9.
Ruan Y, Hu B, Liu Z, Liu K, Jiang H, Li H, et al. No detection of SARS-CoV-2 from urine, expressed prostatic secretions, and semen in 74 recovered COVID-19 male patients: A perspective and urogenital evaluation. Andrology. 2021; 9(1): 99-106.
Gonzalez DC, Khodamoradi K, Pai R, Guarch K, Connelly ZM, Ibrahim E, et al. A systematic review on the investigation of SARS-CoV-2 in semen. Res Rep Urol. 2020; 12: 615-21.
Massarotti C, Garolla A, Maccarini E, Scaruffi P, Stigliani S, Anserini P, et al. SARS-CoV-2 in the semen: Where does it come from?. Andrology. 2021; 9(1): 39-41.
Lukassen S, Chua RL, Trefzer T, Kahn NC, Schneider MA, Muley T, et al. SARS-CoV-2 receptor ACE2 and TMPRSS2 are primarily expressed in bronchial transient secretory cells. EMBO J. 2020; 39(10): e105114.
Cheng H, Wang Y, Wang GQ. Organ-protective effect of angiotensin-converting enzyme 2 and its effect on the prognosis of COVID-19. J Med Virol. 2020; 92(7): 726-30.
Fu J, Zhou B, Zhang L, Balaji KS, Wei C, Liu X, et al. Expressions and significances of the angiotensin-converting enzyme 2 gene, the receptor of SARS-CoV-2 for COVID-19. Mol Biol Rep. 2020; 1-10.
Liu X, Chen Y, Tang W, Zhang L, Chen W, Yan Z, et al. Single-cell transcriptome analysis of the novel coronavirus (SARS-CoV-2) associated gene ACE2 expression in normal and non-obstructive azoospermia (NOA) human male testes. Sci China Life Sci. 2020; 63(7): 1006-15.
Shen Q, Xiao X, Aierken A, Yue W, Wu X, Liao M, et al. The ACE2 expression in Sertoli cells and germ cells may cause male reproductive disorder after SARS-CoV-2 infection. J Cell Mol Med. 2020; 24(16): 9472-7.
Moghimi N, Farsani BE, Ghadipasha M, Mahmoudiasl GR, Piryaei A, Aliaghaei A, et al. COVID-19 disrupts spermatogenesis through the oxidative stress pathway following induction of apoptosis. Apoptosis. 2021; 1-16.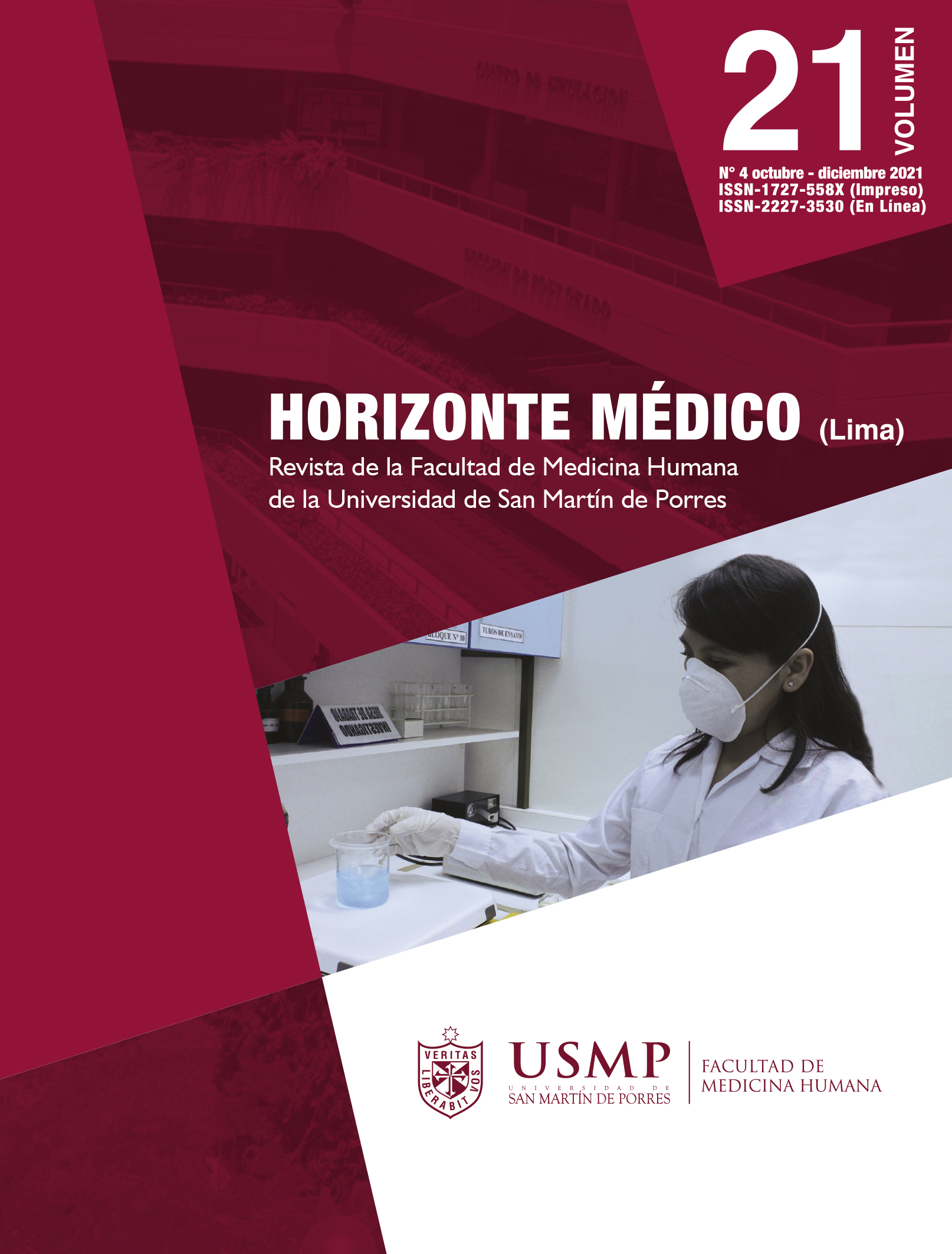 Cómo citar
1.
Zulema Zeñas G. Presencia de SARS-COV-2 en semen de hombres con COVID-19: revisión sistemática . Horiz Med [Internet]. 3 de diciembre de 2021 [citado 30 de septiembre de 2023];21(4):e1390. Disponible en: https://www.horizontemedico.usmp.edu.pe/index.php/horizontemed/article/view/1390
Sección
Artículos de revisión
Licencia
Derechos de autor 2021 G. Zulema Zeñas
Esta obra está bajo una licencia internacional Creative Commons Atribución 4.0.
El contenido de la Revista Horizonte Médico es de libre acceso, de manera gratuita, con el fin de divulgar los trabajos y experiencias desarrolladas en el área biomédica y de salud pública realizados a nivel nacional e internacional, promoviendo la investigación en los diferentes campos de la medicina humana.

La Revista Horizonte Médico mantiene los derechos de autoría, distribución y reproducción de los artículos publicados.

Todos los artículos aceptados y publicados en la Revista Horizonte Médico se distribuyen gratuitamente bajo los términos de la licencia Creative Commons Attribution 4.0 International (CC BY 4.0).