Inestabilidad hemodinámica por efecto Macklin en un paciente con COVID-19: reporte de caso
Palabras clave:
Diagnóstico de Neumomediastino, Choque, Tomografía
Resumen
Presentamos un caso de un neumomediastino espontáneo, efecto Macklin, en un hombre de 49 años con comorbilidades y diagnóstico de COVID-19. El paciente recibió soporte vital total pero evolucionó de manera desfavorable y con inestabilidad hemodinámica, la cual progresa a un choque obstructivo por el neumomediastino. Aunque es un cuadro inusual, es importante conocer la clínica, el diagnóstico y el manejo de esta entidad en las unidades de cuidados intensivos.
Descargas
Los datos de descargas todavía no están disponibles.
Citas
Mao L, Wang M, Chen S, He Q, Chang J, Hong C, et al. Neurological manifestations of hospitalized patients with COVID-19 in Wuhan, China: a retrospective case series study. MedRxiv. 2020.
GenBank. Wuhan seafood market pneumonia virus isolate Wuhan-Hu-1, complete genome [Internet]. 2020. Disponible en: http://www.ncbi.nlm.nih.gov/nuccore/MN908947.3
Li Y-C, Bai W-Z, Hashikawa T. The neuroinvasive potential of SARS-CoV2 may play a role in the respiratory failure of COVID-19 patients. J Med Virol. 2020; 92(6): 552-5.
AHA/ASA Stroke Council Leadership. Temporary emergency guidance to US Stroke Centers during the Coronavirus Disease 2019 (COVID-19) pandemic: on behalf of the American Heart Association/American Stroke Association Stroke Council Leadership. Stroke. 2020; 51(6): 1910-2.
Macklin CC. Transport of air along sheaths of pulmonic blood vessels from alveoli to mediastinum: clinical implications. Arch Intern Med. 1939; 64(5): 913-26.
Wintermark M, Schnyder P. The Macklin effect. A frequent etiology for pneumomediastinum in severe blunt chest trauma. Chest. 2001; 120(2): 543-7.
Sakai M, Murayama S, Gibo M, Akamine T, Nagata O. Frequent cause of the Macklin effect in spontaneous pneumomediastinum: demonstration by multidetector-row computed tomography. J Comput Assist Tomogr. 2006; 30(1): 92-4.
Gorospe L, Ayala-Carbonero A, Ureña-Vacas A, Fernández S, Muñoz-Molina GM, Arrieta P, et al. Spontaneous pneumomediastinum in patients with COVID-19: a case series of four patients. Arch Bronconeumol. 2020; 56(11): 754-6.
Zendah I, Bacha S, Daghfous H, Ben M'rad S, Merai S, Tritar F. Management of spontaneous pneumomediastinum in the adult: 14 cases and a review of the literature. Rev Pneumol Clin. 2010; 66(3): 163-6.
O'Connor JV, Scalea TM. Tension pneumopericardium after blunt thoracic trauma. Ann Thorac Surg. 2010; 90(5): 1713.
Wang J, Su X, Zhang T, Zheng C. Spontaneous pneumomediastinum: a probable unusual complication of coronavirus disease 2019 (COVID-19). Korean J Radiol. 2020; 21(5): 627-8.
Newcomb AE, Clarke CP. Spontaneous pneumomediastinum: a benign curiosity or a significant problem? Chest. 2005; 128(5): 3298-302.
Takada K, Matsumoto S, Hiramatsu T, Kojima E, Watanabe H, Sizu M, et al. Management of spontaneous pneumomediastinum based on clinical experience of 25 cases. Respir Med. 2008; 102(9): 1329-34.
Zakynthinos E, Karetsi E, Diakaki C. Pneumopericardium after blunt chest trauma: mechanical ventilation with positive pressure must be avoided. Int J Cardiol. 2008; 124(1): e8-10.
Kallel N, Beloeil H, Geffroy A, Albaladejo P, Marty J. Post-traumatic tension pneumothorax and pneumopericardium in spontaneous ventilation. Ann Fr Anesth Reanim. 2004; 23(4): 364-6.
Li K, Fang Y, Li W, Pan C, Qin P, Zhong Y, et al. CT image visual quantitative evaluation and clinical classification of coronavirus disease (COVID-19). Eur Radiol. 2020; 30: 4407-16.
Dekel B, Paret G, Szeinberg A, Vardi A, Barzilay Z. Spontaneous pneumomediastinum in children: clinical and natural history. Eur J Pediatr. 1996; 155(8): 695-7.
Weissberg D, Weissberg D. Spontaneous mediastinal emphysema. Eur J Cardiothorac Surg. 2004; 26(5): 885-8.
Campillo-Soto A, Coll-Salinas A, Soria-Aledo V, Blanco-Barrio A, Flores-Pastor B, Candel-Arenas M, et al. Spontaneous pneumomediastinum: descriptive study of our experience with 36 cases. Arch Bronconeumol. 2005; 41(9): 528-31.
Santiago-Aguinaga IJ, Martínez-Bayarri Ubillos M. Neumomediastino espontáneo. Análisis de 16 casos. Emergencias. 2000; 12: 321-5.
Mondello B, Pavia R, Ruggeri P, Barone M, Barresi P, Monaco M. Spontaneous pneumomediastinum: experience in 18 adult patients. Lung. 2007; 185(1): 9-14.
Macia I, Moya J, Ramos R, Morera R, Escobar I, Saumench J, et al. Spontaneous pneumomediastinum: 41 cases. Eur J Cardiothorac Surg. 2007; 31(6): 1110-4.
Perna V, Vilà E, Guelbenzu JJ, Amat I. Pneumomediastinum: is this really a benign entity? When it can be considered as spontaneous? Our experience in 47 adult patients. Eur J Cardiothorac Surg. 2010; 37(3): 573-5.
Kelly S, Hughes S, Nixon S, Paterson-Brown S. Spontaneous pneumomediastinum (Hamman's syndrome). Surgeon. 2010; 8(2): 63-6.
Pich H, Heller AR. Obstructive shock. Anaesthesist. 2015; 64(5): 403-19.
Rolim-Marques AF, Hermogenes Lopes L, dos Santos Martins M, Vanderlei Carmona C, Pereira Fraga G, Shiyoti Hirano E. Tension pneumopericardium in blunt thoracic trauma. Int J Surg Case Rep. 2016; 24: 188-90.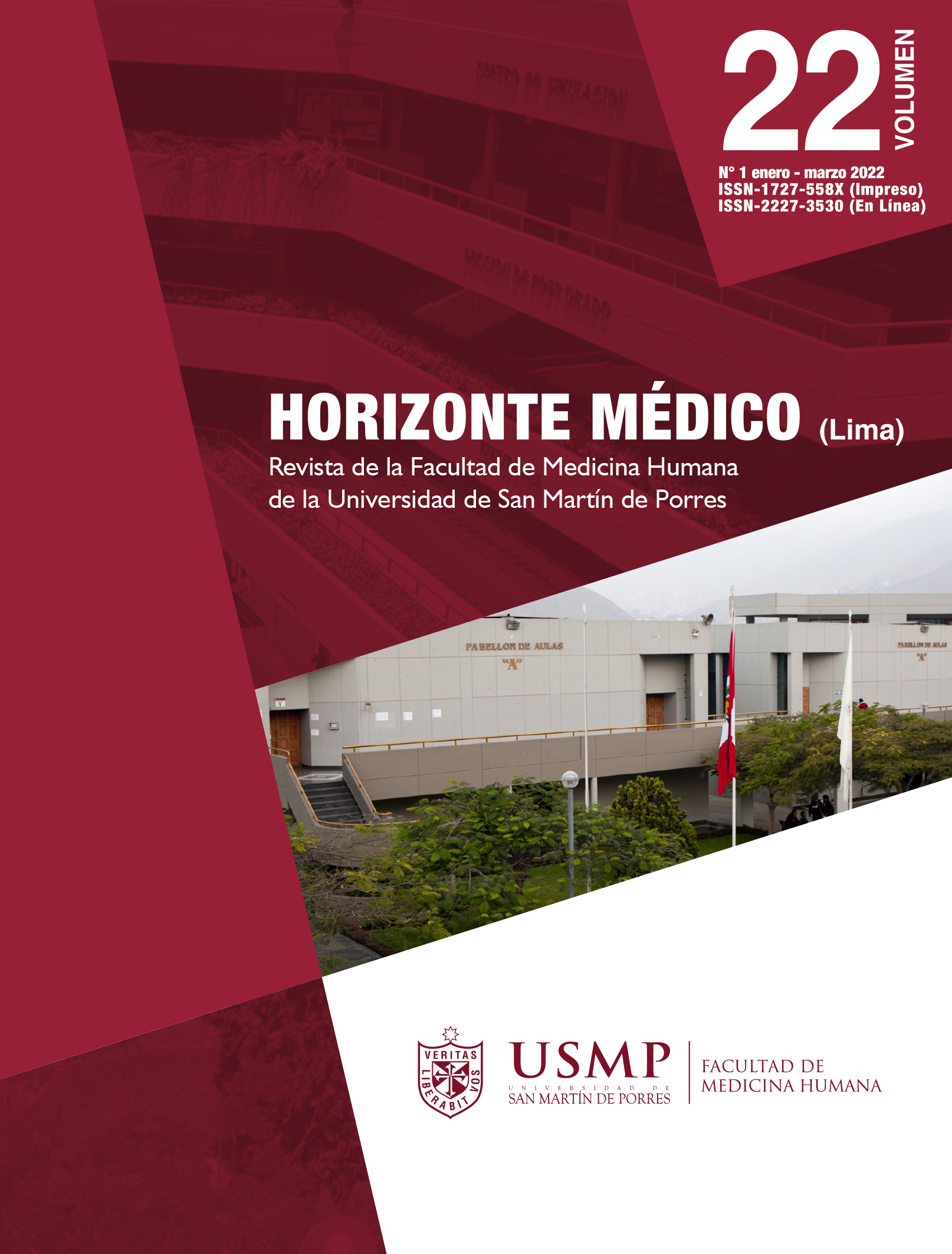 Cómo citar
1.
Ruiz-Laos SG, Díaz-Lazo A. Inestabilidad hemodinámica por efecto Macklin en un paciente con COVID-19: reporte de caso. Horiz Med [Internet]. 18 de marzo de 2022 [citado 30 de septiembre de 2023];22(1):e1745. Disponible en: https://www.horizontemedico.usmp.edu.pe/index.php/horizontemed/article/view/1745
Licencia
Derechos de autor 2022 Santiago Gerardo Ruiz-Laos, Aníbal Díaz-Lazo
Esta obra está bajo una licencia internacional Creative Commons Atribución 4.0.
El contenido de la Revista Horizonte Médico es de libre acceso, de manera gratuita, con el fin de divulgar los trabajos y experiencias desarrolladas en el área biomédica y de salud pública realizados a nivel nacional e internacional, promoviendo la investigación en los diferentes campos de la medicina humana.

La Revista Horizonte Médico mantiene los derechos de autoría, distribución y reproducción de los artículos publicados.

Todos los artículos aceptados y publicados en la Revista Horizonte Médico se distribuyen gratuitamente bajo los términos de la licencia Creative Commons Attribution 4.0 International (CC BY 4.0).