Las antiguas drogas antitrombóticas, ¿serán enviadas al museo?
Resumen
El desarrollo y prescripción de drogas que alteran el equilibrio del sistema de hemostasia ha constituido un gran avance en el tratamiento y la prevención de eventos tromboembólicos, que ha logrado disminuir de manera drástica la morbimortalidad asociada a ellos. El descubrimiento de la heparina y de los cumarínicos, así como la descripción de sus actividades trombóticas, abrió un nuevo panorama terapéutico.
Descargas
Los datos de descargas todavía no están disponibles.
Citas
McLean J. The thromboplastic action of cephalin. Am J Physiol. 1916.
McLean J. The discovery of heparin. Circulation. 1959; 19(1): 75-8.
Campbell HA, Smith WK, Roberts WL, Link KP. Studies on the hemorrhagic sweet clover disease: II. The bioassay of hemorrhagic concentrates by following the prothrombin level in the plasma of rabbit blood. J Biol Chem. 1941; 138(1): 1-20.
Gibson P. Salicylic acid for coronary thrombosis? Lancet. 1948; 1(6512): 965.
Gibson P. Aspirin in the treatment of vascular diseases. Lancet. 1949; 2(6591): 1172-4.
Salzman EW, Deykin D, Shapiro RM, Rosenberg R. Management of heparin therapy: controlled prospective trial. N Engl J Med. 1975; 292(20): 1046-50.
Kakkar VV, Corrigan T, Spindler J, Fossard DP, Flute PT, Crelling RQ, et al. Efficacy of low doses of heparin in prevention of deep-vein thrombosis after major surgery: a double-blind, randomised trial. Lancet. 1972; 2(7768): 101-6.
Kakkar VV, Corrigan TP, Fossard DP, Sutherland I, Thirwell J. Prevention of fatal postoperative pulmonary embolism by low doses of heparin. An international multicentre trial. Lancet. 1975; 2(7924): 45-51.
Columbus Investigators, Buller HR, Gent M, Gallus AS, Ginsberg J, Prins MH, et al. Low-molecular-weight heparin in the treatment of patients with venous thromboembolism. N Engl J Med. 1997; 337(10): 657-62.
4th American College of Chest Physicians Consensus Conference on Antithrombotic Therapy. Tucson, Arizona, April 1995. Proceedings. Chest. 1995; 108(Suppl. 4): 312-34.
Baumann MH, Strange C, Heffner JE, Light R, Kirby TJ, Klein J, et al. Management of spontaneous pneumothorax: an American College of Chest Physicians Delphi consensus statement. Chest. 2001; 119(2): 590-602.
Kakkar VV. Efficacy and safety of clivarin and other LMWHs in general surgery: a meta-analysis. Blood Coagul Fibrinolysis. 1993; 4(Suppl. 1): 23-7.
Turpie AGG, Bauer KA, Eriksson BI, Lassen MR. Fondaparinux vs enoxaparin for the prevention of venous thromboembolism in major orthopedic surgery: a meta-analysis of 4 randomized double-blind studies. Arch Intern Med. 2002; 162(16): 1833-40.
Wright IS. Experiences with dicumarol (3,3'-methylene-bis[4-hydroxycoumarin]) in the treatment of coronary thrombosis with myocardial infarction; preliminary report. Am Heart J. 1946; 32(1): 20-31.
Bauer KA. Recent progress in anticoagulant therapy: oral direct inhibitors of thrombin and factor Xa. J Thromb Haemost. 2011; 9(Suppl. 1): 12-9.
O'Connell C, Escalante CP, Goldhaber SZ, McBane R, Connors JM, Raskob GE. Treatment of cancer-associated venous thromboembolism with low-molecular-weight heparin or direct oral anticoagulants: patient selection, controversies, and caveats. Oncologist. 2021; 26(1): e8-16.
Ruiz Mori E. Antiagregantes plaquetarios. Rev Peru Cardiol. 2006; XXXII(1): 29-38.
Lugo LM, Herrero JL. Tratamiento antitrombótico doble frente a triple. Rev Esp Cardiol. 2019; 18(Supl. A): 27-33.
Stevens SM, Woller SC, Kreuziger LB, Bounameaux H, Doerschug K, Geersing G-J, et al. Antithrombotic therapy for VTE disease. Second update of the CHEST guideline and expert panel report. Chest. 2021; 160(6): e545-608.
Greer DM. Aspirin and antiplatelet agent resistance: implications for prevention of secondary stroke. CNS Drugs. 2010; 24(12): 1027-40.
Kraaijpoel N, Carrier M. How I treat cancer-associated venous thromboembolism. Blood. 2019; 133(4): 291-8.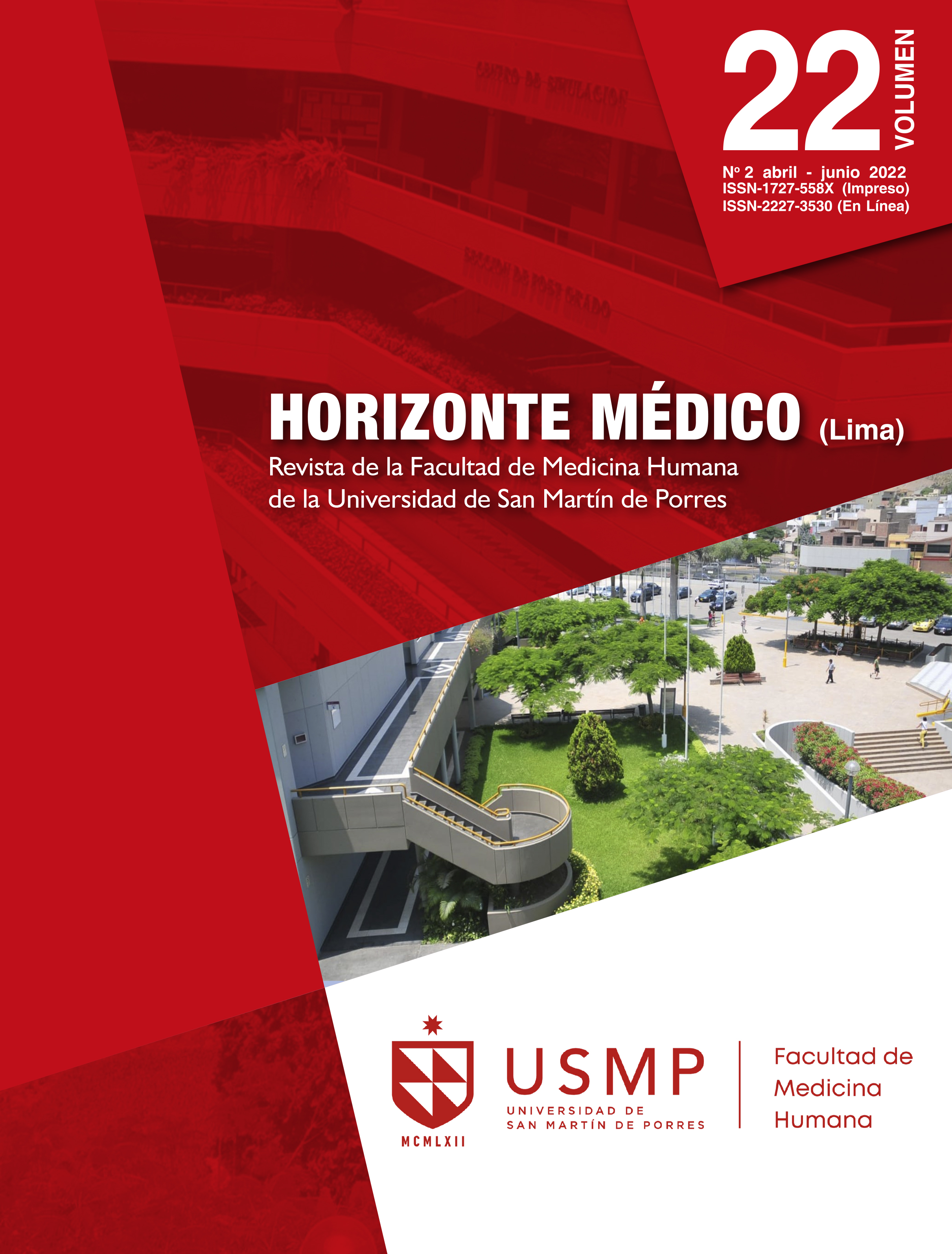 Cómo citar
1.
Argumanis Sánchez LEG. Las antiguas drogas antitrombóticas, ¿serán enviadas al museo?. Horiz Med [Internet]. 30 de junio de 2022 [citado 29 de septiembre de 2023];22(2):e1969. Disponible en: https://www.horizontemedico.usmp.edu.pe/index.php/horizontemed/article/view/1969
Licencia
Derechos de autor 2022 Luis Enrique G. Argumanis Sánchez
Esta obra está bajo una licencia internacional Creative Commons Atribución 4.0.
El contenido de la Revista Horizonte Médico es de libre acceso, de manera gratuita, con el fin de divulgar los trabajos y experiencias desarrolladas en el área biomédica y de salud pública realizados a nivel nacional e internacional, promoviendo la investigación en los diferentes campos de la medicina humana.

La Revista Horizonte Médico mantiene los derechos de autoría, distribución y reproducción de los artículos publicados.

Todos los artículos aceptados y publicados en la Revista Horizonte Médico se distribuyen gratuitamente bajo los términos de la licencia Creative Commons Attribution 4.0 International (CC BY 4.0).