Implicancias éticas en la atención hospitalaria a personas con discapacidad intelectual: una revisión narrativa
Palabras clave:
Bioética, Ética, Discapacidad Intelectual, Hospitalización
Resumen
Las personas con discapacidad intelectual (PDI) son propensas a complicaciones durante algunas enfermedades debido a sus comorbilidades, por lo que requieren una atención hospitalaria diferenciada; sin embargo, no suelen recibir un trato idóneo y muchas veces se vulneran sus derechos, sobre todo en el ámbito ético. Los principios de justicia, no maleficencia, beneficencia y autonomía podrían estar transgrediéndose en el ámbito hospitalario no solo por parte del personal de salud, quienes, en oportunidades, brindan un trato deshumanizado y con poco involucramiento del cuidador, sino también por los sistemas de atención hospitalaria que no consideran las limitaciones, inequidades y necesidades prioritarias. Para identificar esta realidad se ha realizado la presente revisión narrativa donde se encontró 484 artículos de bases como Pubmed, Scopus y Lilacs, de los cuales se han incluido 53. Se destaca la escasa información directamente relacionada a la ética en la atención hospitalaria, sin embargo, se analizaron temas relacionados como salud reproductiva, trasplante, manejo de enfermedades crónicas y promoción de la salud, y se resaltó las faltas a la autonomía y justicia, principalmente. Luego de la revisión, se llegó a la conclusión de la importancia de difundir los principios éticos para todo el personal del sector salud, desde el inicio de su formación, así como sensibilizar a los decisores del rubro respecto al trato a las personas con discapacidad intelectual, especialmente en el ámbito hospitalario, donde se requiere un sistema de atención diferenciado y justo que favorezca la integración, el acceso y la comunicación.
Descargas
Los datos de descargas todavía no están disponibles.
Citas
Dunn K, Hughes-McCormack L, Cooper SA. Hospital admissions for physical health conditions for people with intellectual disabilities: Systematic review. J Appl Res Intellect Disabil. 2018; 31(Suppl. 1): 1-10.
Emerson E. The Rio Declaration: Addressing the health inequalities experienced by people with intellectual disabilities. J Intellect Disabil. 2012; 16(2): 83-4.
Rueda LC, Zuñiga OM. Principales dilemas bioéticos en las personas con discapacidad prolongada. Acta Bioeth. 2002; 8(1): 127-35.
Coronados VY, García LES, González JAA, Gelabert CJA. Principales dilemas bioéticos en personas con discapacidad. Rev Cubana Med Fís Rehab. 2018; 10(2).
Hosking FJ, Carey IM, Dewilde S, Harris T, Beighton C, Cook DG. Preventable emergency hospital admissions among adults with intellectual disability in England. Ann Fam Med. 2017; 15(5): 462-70.
Bemd MVD, Cuypers M, Bischoff EWMA, Heutmekers M, Schalk B, Leusink GL. Exploring chronic disease prevalence in people with intellectual disabilities in primary care settings: A scoping review. J Appl Res Intellect Disabil. 2022; 35(2): 382-98.
Weise J, Pollack A, Britt H, Trollor JN. Primary health care for people with an intellectual disability: an exploration of demographic characteristics and reasons for encounters from the BEACH programme. J Intellect Disabil Res. 2016; 60(11): 1119-27.
Cooper SA, Henderson A, Kinnear D, Mackay D, Fleming M, Smith GS, et al. Cohort profile: Scotland's record-linkage e-cohorts of people with intellectual disabilities, and autistic people (SCIDA). BMJ Open. 2022; 12(5): e057230.
Ali A, Scior K, Ratti V, Strydom A, King M, Hassiotis A. Discrimination and other barriers to accessing health care: Perspectives of patients with mild and moderate intellectual disability and their carers. PLoS One. 2013; 8(8): 70855.
Matin BK, Williamson HJ, Karyani AK, Rezaei S, Soofi M, Soltani S. Barriers in access to healthcare for women with disabilities: a systematic review in qualitative studies. BMC Women's Health. 2021; 21(1): 44.
Heslop P, Turner S, Read S, Tucker J, Seaton S, Evans B. Implementing reasonable adjustments for disabled people in healthcare services. Nurs Stand. 2019; 34(8): 29-34.
Literatura Latino-Americana e do Caribe em Ciencias da Saúde. Revistas indexadas en LILACS [Internet]. 2022. Disponible en: https://lilacs.bvsalud.org/es/revistas-lilacs/revistas-indexadas-en-lilacs/
Ouzzani M, Hammady H, Fedorowicz Z, Elmagarmid A. Rayyan-a web and mobile app for systematic reviews. Syst Rev. 2016; 5(1).
Fulford R, Bender K. How can health departments better serve populations with intellectual disabilities? J Public Health Manag Pract. 2018; 24(Suppl. 3): 55-7.
Brolan CE, Gomez MT, Lennox NG, Ware RS. Australians from a non-English speaking background with intellectual disability: The importance of research. J Intellect Develop Dis. 2013; 38(1): 70-3.
Amin MR, Gentile JP, Edwards B, Davis M. Evaluation of health care disparities for individuals with intellectual and developmental disabilities in Ohio. Community Ment Health J. 2021; 57(3): 482-9.
Balogh RS, Lake JK, Lin E, Wilton A, Lunsky Y. Disparities in diabetes prevalence and preventable hospitalizations in people with intellectual and developmental disability: A population-based study. Diabet Med. 2015; 32(2): 235-42.
Maltais J, Morin D, Tassé MJ. Healthcare services utilization among people with intellectual disability and comparison with the general population. J Appl Res Intellect Disabil. 2020; 33(3): 552-64.
Brown HK, Plourde N, Ouellette-Kuntz H, Vigod S, Cobigo V. Brief report: Cervical cancer screening in women with intellectual and developmental disabilities who have had a pregnancy. J Intellect Disabil Res. 2016; 60(1): 22-7.
Havercamp SM, Scott HM. National health surveillance of adults with disabilities, adults with intellectual and developmental disabilities, and adults with no disabilities. Disabil Health J. 2015; 8(2): 165-72.
Haider SI, Ansari Z, Vaughan L, Matters H, Emerson E. Health and wellbeing of Victorian adults with intellectual disability compared to the general Victorian population. Res Dev Disabil. 2013; 34(11): 4034-42.
Slayter E. Disparities in substance abuse treatment utilization among women with intellectual disability. J Soc Work Disabil Rehabil. 2016; 15(2): 96-115.
Burke MM, Heller T. Disparities in unmet service needs among adults with intellectual and other developmental disabilities. J Appl Res Intellect Disabil. 2017; 30(5): 898-910.
Oulton K, Gibson F, Carr L, Hassiotis A, Jewitt C, Kenten C, et al. Mapping staff perspectives towards the delivery of hospital care for children and young people with and without learning disabilities in England: A mixed methods national study. BMC Health Serv Res. 2018; 18(1): 203.
Chapman HM, Lovell A, Bramwell R. Do health consultations for people with learning disabilities meet expectations? A narrative literature review. Br J Learn Disabil. 2018; 46(2): 118-35.
Cardell B. Reframing health promotion for people with intellectual disabilities. Glob Qual Nurs Res. 2015.
Naaldenberg J, Banks R, Lennox N, Ouellette-Kunz H, Meijer M, Schrojenstein Lantman-de-Valk HV. Health inequity in people with intellectual disabilities: From Evidence to Action Applying an Appreciative Inquiry Approach. J Appl Res Intellect Disabil. 2015; 28(1): 3-11.
Chen A, Ahmad M, Flescher A, Freeman WL, Little S, Martins PN, et al. Access to transplantation for persons with intellectual disability: Strategies for nondiscrimination. Am J Transplant. 2020 Aug 1;20(8):2009–16.
Mizen LA, Macfie ML, Findlay L, Cooper SA, Melville CA. Clinical guidelines contribute to the health inequities experienced by individuals with intellectual disabilities. Implement Sci. 2012; 7: 42.
Proyecto Quip. Convención Internacional sobre los Derechos de las Personas con Discapacidad [Internet]. 2017. Disponible en: www.idea12.eu
De Pena L, Fajardo A, Guida S, Larrosa O, Machado M, Menéndez M, et al. Análisis y reflexiones desde una mirada bioética, en la práctica clínica psiquiátrica, a propósito de un caso. Rev Psiquiatr Urug. 2014; 78(1): 31-41.
Desroches ML, Sethares KA, Curtin C, Chung J. Nurses' attitudes and emotions toward caring for adults with intellectual disabilities: Results of a cross-sectional, correlational-predictive research study. J Appl Res Intellect Disabil. 2019; 32(6): 1501-13.
Flood B. Safety of people with intellectual disabilities in hospital. What can the hospital pharmacist do to improve quality of care? Pharmacy. 2017; 5(4): 44.
Krch-Cole EL, Lynch P, Ailey SH. Clients with intellectual disabilities on psychiatric units: Care coordination for positive outcomes. J Psychiatr Ment Health Nurs. 2012; 19(3): 248-56.
Edwards J, Mold F, Knivett D, Boulter P, Firn M, Carey N. Quality improvement of physical health monitoring for people with intellectual disabilities: an integrative review. J Intellect Disabil Res. 2018; 62(3): 199-216.
Prokup JA, Andridge R, Havercamp SM, Yang EA. Health care disparities of ohioans with developmental disabilities across the lifespan. Ann Fam Med. 2017; 15(5): 471-4.
Mastebroek M, Naaldenberg J, Mareeuw FAVDD, Lagro-Janssen ALM, Valk HMJVSL. Experiences of patients with intellectual disabilities and carers in GP health information exchanges: A qualitative study. Fam Pract. 2016; 33(5): 543-50.
Boyce DM, Devinsky O, Meskis MA. Barriers to transition from pediatric to adult care for patients with Dravet syndrome: A focus group study of caregivers. Epilepsy Behav. 2020; 109: 107096.
Tracy J, McDonald R. Health and disability: Partnerships in health care. J Appl Res Intellect Disabil. 2015; 28(1): 22-32.
Schüklenk U. Protecting the vulnerable: testing times for clinical research ethics. Soc Scie Med. 2000; 51: 969-72.
Vigil ZIA, Domínguez ECF, Hernández ZMS, Dominguez OCA. Bioethical approach of disability and life quality. MEDISAN. 2013; 17(1): 148.
Hughes-McCormack L, Greenlaw N, McSkimming P, McCowan C, Ross K, Allan L, et al. Changes over time in the management of long-term conditions in primary health-care for adults with intellectual disabilities, and the health-care inequalities gap. J Appl Res Intellect Disabil. 2021; 34(2): 634-47.
McCue HS, Hurlburt MS, Goldhaber-Fiebert JD, Heneghan AM, Zhang J, Rolls-Reutz J, et al. Mental health services use by children investigated by child welfare agencies. Pediatrics. 2012; 130(5): 861-9.
Gal G, Munitz H, Levav I. Health care and mortality among persons with severe mental illness: A case-control epidemiological study. Can J Psychiatry. 2017; 62(4): 259-67.
Besoain-Saldaña Á, Sanhueza JR, Hizaut MM, Rojas VC, Ortega GH, Aliaga-Castillo V. Community-based rehabilitation (CBR) in primary care centers in Chile. Rev Saúde Publica. 2020; 54: 38.
Slowie D, Martin G. Narrowing the health inequality gap by annual health checks for patients with intellectual disability. Br J Gen Pract. 2014; 64(619): 101-2.
Robertson J, Hatton C, Emerson E, Baines S. The impact of health checks for people with intellectual disabilities: An updated systematic review of evidence. Res Dev Disabil. 2014; 35(10): 2450-62.
Levinson D, Lerner Y. Hospitalization of patients with schizophrenic and affective disorders in Israel in the aftermath of the structural and rehabilitation reforms. Isr J Health Policy Res. 2013; 2: 29.
Artnak KE. Ethics consultation in dual diagnosis of mental illness and mental retardation: Medical decision making for community-dwelling persons. Camb Q Healthc Ethics. 2008; 17(2): 239-46.
De Snoo-Trimp J, Widdershoven G, Svantesson M, Vet R, Molewijk B. What outcomes do Dutch healthcare professionals perceive as important before participation in moral case deliberation? Bioethics. 2017; 31(4): 246-57.
Elkins TE, Strong C, Wolfe AR, Brown D. An ethics committee in a reproductive health clinic for mentally handicapped persons. Hastings Cent Rep. 1986; 16(3): 20-2.
Ángeles-Llerenas A, Domínguez-Esponda R, Katz-Guss G, Astudillo-García CI, Rodríguez-Valentín R, Madrigal-de León E, et al. Comunicación abierta entre profesionales de la salud mental y padres de pacientes con discapacidad intelectual. Salud Pública Mex. 2020; 62(5): 494-503.
Anderson LL, Humphries K, McDermott S, Marks B, Sisarak J, Larson S. The state of the science of health and wellness for adults with intellectual and developmental disabilities. Intellect Dev Disabil. 2013; 51(5): 385-98.
Caux C, Lecomte J. Consent to care of persons with intellectual disability in Quebec: From vulnerability to capability. Salud Pública Mex. 2017; 59(4): 462-7.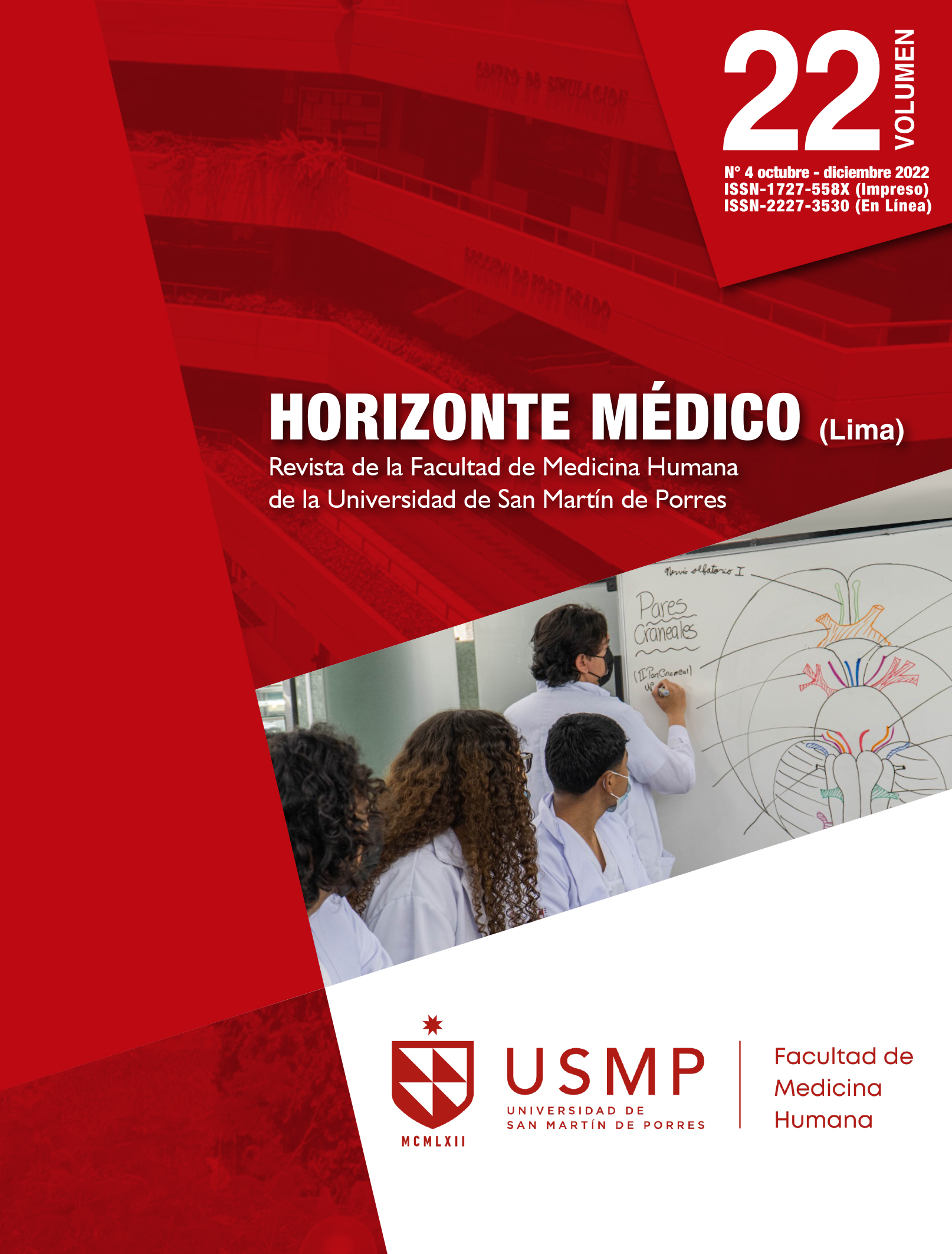 Cómo citar
1.
Reto N, Arredondo-Nontol M, Arredondo-Nontol R, Barreto Espinoza M. Implicancias éticas en la atención hospitalaria a personas con discapacidad intelectual: una revisión narrativa. Horiz Med [Internet]. 7 de diciembre de 2022 [citado 28 de septiembre de 2023];22(4):e1990. Disponible en: https://www.horizontemedico.usmp.edu.pe/index.php/horizontemed/article/view/1990
Sección
Artículos de revisión
Licencia
Derechos de autor 2022 Narcisa Reto, Miriam Arredondo-Nontol, Rodolfo Arredondo-Nontol, Marilu Barreto Espinoza
Esta obra está bajo una licencia internacional Creative Commons Atribución 4.0.
El contenido de la Revista Horizonte Médico es de libre acceso, de manera gratuita, con el fin de divulgar los trabajos y experiencias desarrolladas en el área biomédica y de salud pública realizados a nivel nacional e internacional, promoviendo la investigación en los diferentes campos de la medicina humana.

La Revista Horizonte Médico mantiene los derechos de autoría, distribución y reproducción de los artículos publicados.

Todos los artículos aceptados y publicados en la Revista Horizonte Médico se distribuyen gratuitamente bajo los términos de la licencia Creative Commons Attribution 4.0 International (CC BY 4.0).