Escala de actitud religiosa en estudiantes de Medicina Humana
Maria Teresa Rivera Encinas

Universidad de San Martín de Porres, Facultad de Medicina, Centro de Investigación en Salud Pública. Lima, Perú

http://orcid.org/0000-0002-1415-9210

Jeff David Huarcaya Victoria

Hospital Nacional Guillermo Almenara Irigoyen, Departamento de Psiquiatría, Servicio de Psiquiatría General. Lima, Perú

http://orcid.org/0000-0003-4525-9545
Resumen
Objetivo: Establecer la validez y fiabilidad de la Escala de actitud religiosa (EAR) en una muestra de estudiantes de medicina de una universidad privada del Perú.
Materiales y métodos: Estudio observacional y transversal. Se aplicó la EAR a una muestra de 687 estudiantes de medicina para valorar las propiedades psicométricas.
Resultados: El puntaje medio de la EAR fue de 62,97 ± 15,74. Destaca la diferencia en variables género (p=0,011), año de estudio (p=0,035), y religión (p=0,000). Se encontraron 3 factores con autovalores de 9,34, 1,53 y 1,02 respectivamente. Cada uno aporta el 35,22 %, 17,68 % y 17,09 % de la varianza total explicada en la rotación, que es, en conjunto, el 70 % de la varianza total. La EAR tiene una consistencia interna aceptable (alfa de Cronbach=0,94), pero en su versión de 14 ítems aumenta a 0,951.
Conclusiones: Se puede inferir que la EAR, en su versión de 14 ítems, cuenta con propiedades psicométricas adecuadas para poder evaluar la actitud de la población de estudiantes peruanos de Medicina Humana hacia la religión.
##plugins.generic.usageStats.downloads##
##plugins.generic.usageStats.noStats##
Citas
1. Koenig H. Religion and medicine I: Historical background and reasons for separation. Int J Psychiatry Med. 2000; 30(4): 385- 98.

2. Kuyvenhoven MM, De Wit NJ, Kuyck WG. Do doctors pay attention to the religious beliefs of their patients? A survey amongst Dutch GPs. Family Practice. 2000; 17(3): 230-2.

3. Best M, Butow P, Olver I. Doctors discussing religion and spirituality: a systematic literature review. Palliative Medicine. 2016; 30(4): 327-37.

4. Saad M, Masiero D, Battistella LR. Espiritualidade baseada em evidências. Acta Fisiátrica. 2001; 8(3): 107-12.

5. Lucchetti G, Lucchetti AL, Puchalski CM. Spirituality in medical education: global reality?. J Relig Health. 2012; 51(1): 3-19.

6. Puchalski CM, Larson DB. Developing curricula in spirituality and medicine. Acad Med. 1998; 73(9): 970-4.

7. Miller WR, Thoresen CE. Spirituality, religion, and health. An emerging research field. Am Psychol. 2003; 58(1): 24- 35.

8. Orozco-Parra C, Domínguez-Espinoza C. Diseño y validación de la escala de actitud religiosa. Revista de Psicología. 2014; 23(1): 3-11.

9. Francis LJ, Enger T. The Norwegian translation of the Francis Scale of Attitude toward Christianity. Scand J Psychol. 2002; 43(5): 363-7.

10. Francis LJ, Katz YJ. Measuring attitude toward judaism: the internal consistency reliability of the Katz-Francis Scale of Attitude toward Judaism. Ment Health Religion Cult. 2007; 10(4): 309-24.

11. Francis LJ, Santosh YR, Robbins M, Vij S. Assessing attitude toward hinduism: the Santosh–Francis Scale. Ment Health Relig Cult. 2008; 11(6): 609-21.

12. Francis LJ, Sahin A, Al-Failakawi F. Psychometric properties of two islamic measures among young adults in Kuwait: the Sahin-Francis Scale of Attitude toward Islam and the Sahin Index of Islamic Moral Values. J Muslim Ment Health. 2008; 3(1): 9-24.

13. Huarcaya-Victoria J, Sancho Dávila-Palacios J, De la Cruz-Oré

14. J. Relación entre la actitud hacia la homosexualidad y actitud religiosa en médicos de un hospital general. An Fac med. 2018; 79(2): 138-43.

15. Naceur F. Religiosity and its association with positive and negative emotions among college students from Algeria AU- Abdel-Khalek, Ahmed M. Ment Health Relig Cult. 2007; 10(2): 159-70.

16. Pour F, Rasekhi S. Correlation between religious beliefs with mental health and Academic performance in medical students. Int J Med Sci Public Health. 2016; 5(1): 1-6.

17. Huarcaya-Victoria J, Rivera-Encinas MT. Evaluación de la empatía en alumnos de medicina humana de una universidad privada del Perú. Educ Med. 2018.

18. Harbinson MT, Bell D. How should teaching on whole person medicine, including spiritual issues, be delivered in the undergraduate medical curriculum in the United Kingdom?. BMC Med Educ. 2015; 15: 96.

19. Lucchetti G, Lucchetti AL, Espinha DC, de Oliveira LR, Leite JR, Koenig HG. Spirituality and health in the curricula of medical schools in Brazil. BMC Med Educ. 2012; 12: 78.

20. Monroe MH, Bynum D, Susi B, Phifer N, Schultz L, Franco M, et al. Primary care physician preferences regarding spiritual behavior in medical practice. Arch Intern Med. 2003; 163(22): 2751-6.

21. Anandarajah G, Roseman JL. A qualitative study of physicians' views on compassionate patient care and spirituality: medicine as a spiritual practice?. R I Med J (2013). 2014; 97(3): 17-22.

22. Lucchetti G, De Oliveira LR, Koenig HG, Leite JR, Lucchetti AL. Medical students, spirituality and religiosity-results from the multicenter study SBRAME. BMC Med Educ. 2013; 13: 162.

23. Lucchetti G, Ramakrishnan P, Karimah A, Oliveira GR, Dias A, Rane A, et al. Spirituality, religiosity, and health: a comparison of Physicians' Attitudes in Brazil, India, and Indonesia. Int J Behav Med. 2016; 23(1): 63-70.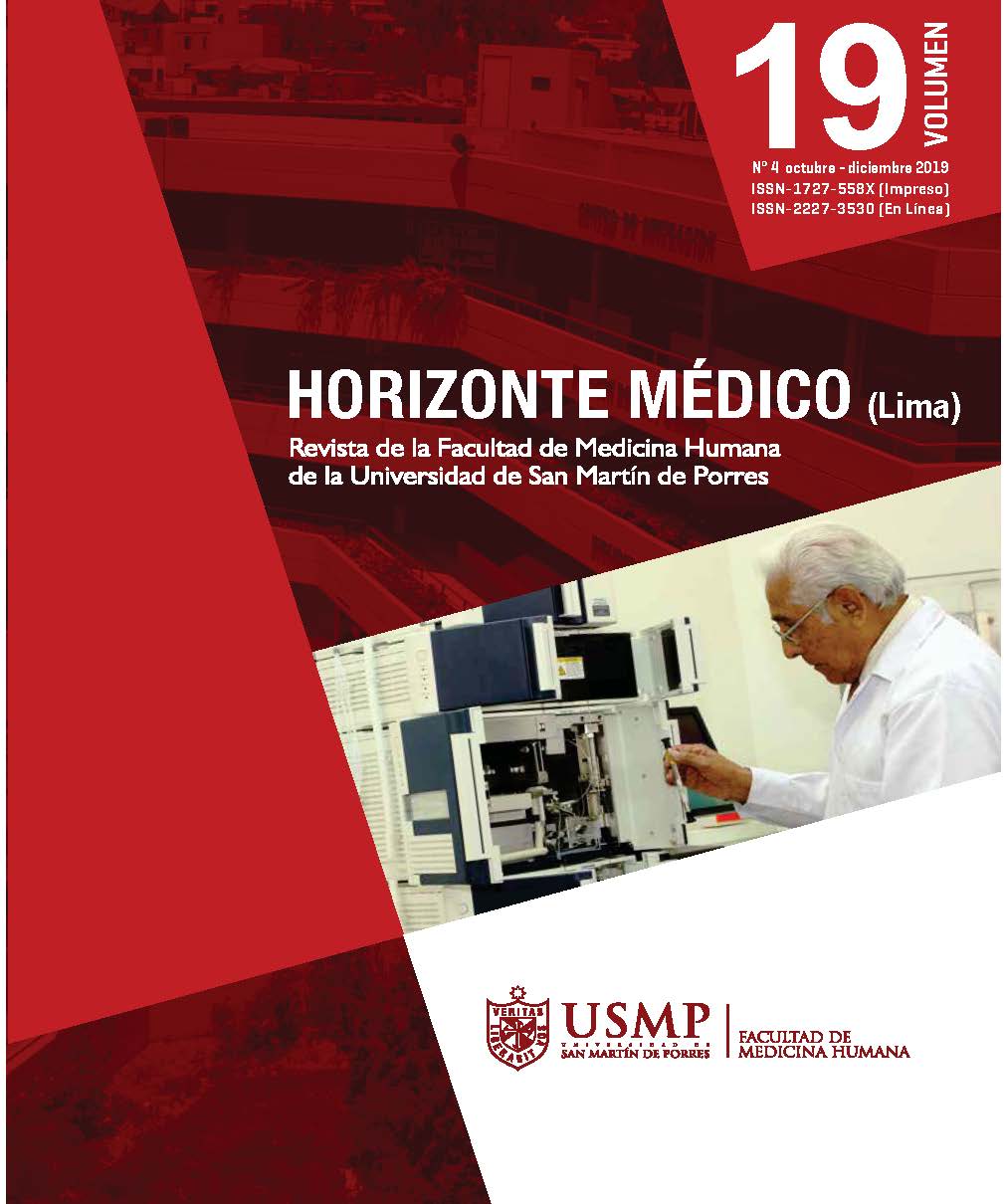 Sección
ARTÍCULOS ORIGINALES
Esta obra está bajo licencia internacional
Creative Commons Reconocimiento 4.0
.
El contenido de la Revista Horizonte Médico es de libre acceso, de manera gratuita, con el fin de divulgar los trabajos y experiencias desarrolladas en el área biomédica y de salud pública realizados a nivel nacional e internacional, promoviendo la investigación en los diferentes campos de la medicina humana.

La Revista Horizonte Médico mantiene los derechos de autoría, distribución y reproducción de los artículos publicados.

Todos los artículos aceptados y publicados en la Revista Horizonte Médico se distribuyen gratuitamente bajo los términos de la licencia Creative Commons Attribution 4.0 International (CC BY 4.0).