Perforación de íleon distal por espina de pescado: reporte de caso
Resumen
Se presenta un caso de perforación de íleon distal, posterior a la ingesta de una espina de pescado. Se realiza la presentación del caso, en relación a la sintomatología clínica, estudios realizados para el diagnóstico conciso, ecografía abdominal. Se describe técnica operatoria y se realiza una discusión del asunto y de la información obtenida en la bibliografía.
##plugins.generic.usageStats.downloads##
##plugins.generic.usageStats.noStats##
Citas
1. Su FJ, Lin IL, Yan YH, Huang CL. Fishbone perforation of the gastrointestinal tract in patients with acute abdominal pain: diagnosis using plain film radiograph. BMJ Case Rep. 2014; 2014: 204201.

2. Majdoub Hassani KI, Toughrai I. Péritonite par perforation grêlique secondaire à une arête de poisson. Pan Afr Med J. 2013; 15: 107.

3. Jiménez-Fuentes M, Moreno-Posadas A, Ruíz-Tovar PJ, Durán- Poveda M. Liver abscess second-ary to duodenal perforation by fishbone: report of a case. Rev Esp Enferm Dig. 2016; 108(1): 42.

4. Chiu WY, Chen YJ, Cheng PC, Shiau EL. Early presentation of bowel perforation due to fish bone ingestion. QJM. 2014; 107(8): 679-80.

5. Chen CK, Su YJ, Lai YC, Cheng HK, Chang WH. Fish bone- related intra-abdominal abscess in an elderly patient. Int J Infect Dis. 2010; 14(2): e171-2.

6. Choi Y, Kim G, Shim C, Kim D, Kim D. Peritonitis with small bowel perforation caused by a fish bone in a healthy patient. World J Gastroenterol. 2014; 20(6): 1626-9.

7. Beecher SM, O'Leary DP, McLaughlin R. Diagnostic dilemmas due to fish bone ingestion: case report & literature review. Int J Surg Case Rep. 2015; 13: 112-5.

8. Chiu JJ, Chen TL, Zhan YL. Perforation of the transverse colon by a fish bone: a case report. J Emerg Med. 2009; 36(4): 345-7.

9. Ishimura T, Takenaka A, Sakai Y, Fujii T, Jo Y, Fujisawa M. Hydronephrosis caused by intra-abdominal abscess from cecal perforation by an ingested fish bone. Int J Urol. 2006; 13(10): 1350-1.

10. Pulat H, Karakose O, Benzin MF, Benzin S, Cetin R. Small bowel perforation due to fish bone: a case report. Turk J Emerg Med. 2015; 15(3): 136-8.

11. Yadav AK, Malla G, Deo KB, Giri S, Bhattarai BM, Adhikary S. Jejunal perforation due to ingest-ed buffalo bone mimicking acute appendicitis. BMC Res Notes. 2016; 9: 321.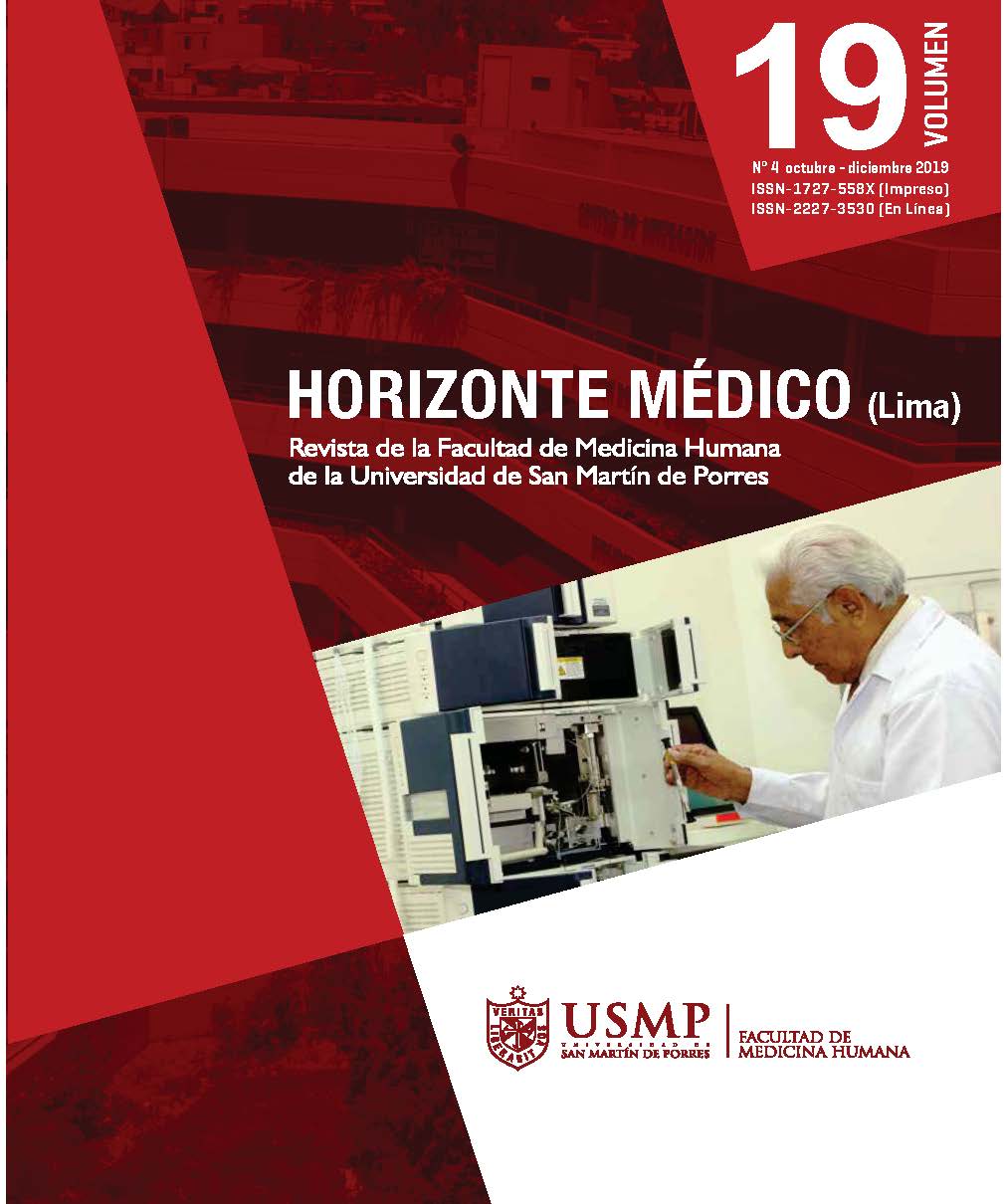 Esta obra está bajo licencia internacional
Creative Commons Reconocimiento 4.0
.
El contenido de la Revista Horizonte Médico es de libre acceso, de manera gratuita, con el fin de divulgar los trabajos y experiencias desarrolladas en el área biomédica y de salud pública realizados a nivel nacional e internacional, promoviendo la investigación en los diferentes campos de la medicina humana.

La Revista Horizonte Médico mantiene los derechos de autoría, distribución y reproducción de los artículos publicados.

Todos los artículos aceptados y publicados en la Revista Horizonte Médico se distribuyen gratuitamente bajo los términos de la licencia Creative Commons Attribution 4.0 International (CC BY 4.0).