Brechas de la investigación pediátrica en la República Dominicana
Resumen
Objetivo: Identificar brechas de investigación pediátrica relacionadas con el origen del financiamiento, los estudios realizados sin aprobación ética del ente regulador nacional, los temas de investigación con respecto a las necesidades de salud y el tipo de estudio desarrollado. Materiales y métodos: Se realizó un estudio descriptivo, observacional y basado en datos de fuentes de información secundarias para identificar los proyectos de investigación pediátrica implementados en la República Dominicana desde 2005 al 2018 que incluyeron la población de 0 a 17 años de edad, sin importar patrocinador, institución responsable de la investigación y región del país.Resultados: Los proyectos de salud representaron el 17 % de las investigaciones realizadas con fondos nacionales y de ellos, el 7,5 % se relacionaba a la pediatría. Los trabajos en el campo de la salud desarrollados con fondos internacionales fueron 40,9 %, sin embargo, el número total de investigaciones fue menor. La investigación pediátrica representó un 38,9 % del registro de los ensayos clínicos de Clinical Trials con predominio de las instituciones privadas para la implementación de los estudios en un 64,6 % de los casos.Conclusiones: Se evidenció una discrepancia entre las líneas de investigación de necesidad nacional con las que fueron patrocinadas por la industria farmacéutica o por fondos nacionales e internacionales. Además, se realizaron ensayos clínicos sin la debida aprobación ética por el ente regulador nacional.
##plugins.generic.usageStats.downloads##
##plugins.generic.usageStats.noStats##
Citas
1. Evans JA, Shim JM, Ioannidis JP. Attention to local health burden and the global disparity of health research. PLoS One. 2014; 9(4): e90147.
2. The World Bank. Poverty [internet]. The World Bank. 2019. Disponible en: https://www.worldbank.org/en/topic/poverty/ overview .
3. Pang T, Sadana R, Hanney S, Bhutta ZA, Hyder AA, Simon J. Knowledge for better health: a conceptual framework and foundation for health research systems. Bull World Health Organ. 2003; 81(11): 815-20.
4. United Nations. Sustainable developmental goals: report of the secretary [Internet]. 2019. Available at: https:// sustainabledevelopment.un.org/sdg17 .
5. Walson PD. From research to the bedside: challenges for Pediatric Academic Researchers. Curr Ther Res Clin Exp. 2019; 90: 123-7.
6. Spadoni C. Pediatric drug development: challenges and opportunities. Curr Ther Res Clin Exp. 2019; 90: 119-22.
7. Harron K. Using reporting guidelines to publish paediatric research. Arch Dis Child. 2017; 102(5): 401-2.
8. Rossi J, Nelson RM. Minimal risk in Pediatric Research: a philosophical review and reconsideration. Account Res. 2017; 24(7): 407-32.
9. Petrini C, Rana I, Alleva E. For an alliance between science, ethics and politics in promoting paediatric trials: commentary. Ann Ist Super Sanita. 2016; 52(1): 9-10.
10. Brookman-Frazee L, Stahmer A, Stadnick N, Chlebowski C, Herschell A, Garland A. Characterizing the use of researchcommunity partnerships in studies of Evidence-Based Interventions in Children's Community Services. Adm Policy Ment Health. 2016; 43(1): 93-104.
11. Gwara M, Smith S, Woods C, Sheeren E, Woods H. International Children's Advisory Network: a multifaceted approach to patient engagement in Pediatric Clinical Research. Clin Ther. 2017; 39(10): 1933-8.
12. Joseph PD, Craig JC, Caldwell PH. Clinical trials in children. Br J Clin Pharmacol. 2015; 79(3): 357-69.
13. Joseph PD, Caldwell PH, Tong A, Hanson CS, Craig JC. Stakeholder views of clinical trials in low-and middle-income countries: a systematic review. Pediatrics. 2016; 137(2): e20152800.
14. Winch R, McColgan M, Modi N, Greenough A. Comparison of UK paediatric consultants' participation in child health research between 2011 and 2015. Arch Dis Child. 2017; 102(8): 702-6.
15. Demirdjian G, Rodríguez S, Vassallo JC, Irazola V, Rodríguez J. In-hospital capacity-building in research and management for pediatric professionals. Arch Argent Pediat. 2017; 115 (1): 58-64.
16. Britz D. Electronic supplementary material. En: Digital Simulation in Electrochemistry [Internet]. Berlin, Heidelberg: Springer Berlin Heidelberg. 2005. p. 330. Disponible en: http://link.springer. com/10.1007/11009375_21.

17. Lipstein EA, Brinkman WB, Fiks AG, Hendrix KS, Kryworuchko J, Miller VA, et al. An emerging field of research: challenges in pediatric decision making. Med Decis Making. 2015; 35(3): 403-8.
18. Benali N, Grojec A, Noeva R. Progress for every child in the SDG Era [internet]. United Children Fund. 2018. Disponible en: https://data.unicef.org/resources/progress-for-every-child-inthe-sdg-era-2019/.
19. GBD 2016 Mortality Collaborators. Global, regional, and national under-5 mortality, adult mortality, age-specific mortality, and life expectancy, 1970–2016: a systematic analysis for the Global Burden of Disease Study 2016. The Lancet. 2017; 390(10100): 1084-150.
20. GBD 2016 Causes of Death Collarobators. Global, regional, and national age-sex specific mortality for 264 causes of death, 1980– 2016: a systematic analysis for the Global Burden of Disease Study 2016. The Lancet. 2017; 390(10100): 1151-210.
21. Ministerio de Salud Pública. Plan plurianual de salud 2017-2020 [internet]. 2019. Disponible en: https://www.msp.gob.do/web/ Transparencia/documentos_oai/51/planificacion-estrategica/7005/ plan-plurianual-salud-2017-2020.pdf.
22. Ministerio de Salud Pública. Plan Decenal de Salud 2006-2015 [internet]. 2019. Disponible en: http://www.paho.org/hq/ dmdocuments/2010/Politicas_Nacionales_Salud-Rep_DominicanaPlan_Decenal_Salud_2006-15.pdf .
23. Ministerio de Salud. Plan Plurianual de Salud [internet]. 2016. Disponible en: ftp://ftp2.minsa.gob.pe/descargas/ transparencia/05PlanEstrategico/Archivos/2016/RM367-2016MINSA.pdf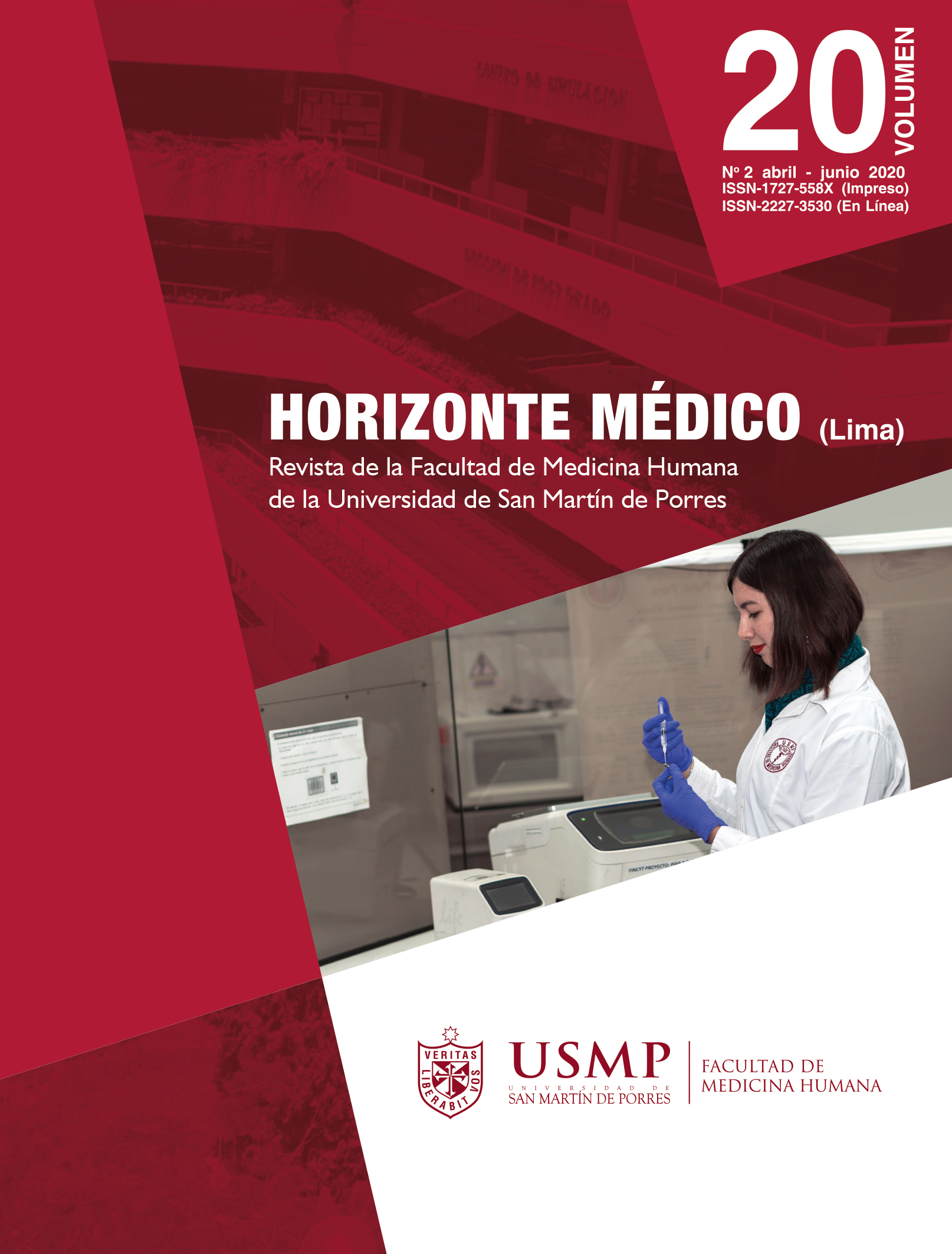 Sección
ARTÍCULOS ORIGINALES
Esta obra está bajo licencia internacional
Creative Commons Reconocimiento 4.0
.
El contenido de la Revista Horizonte Médico es de libre acceso, de manera gratuita, con el fin de divulgar los trabajos y experiencias desarrolladas en el área biomédica y de salud pública realizados a nivel nacional e internacional, promoviendo la investigación en los diferentes campos de la medicina humana.

La Revista Horizonte Médico mantiene los derechos de autoría, distribución y reproducción de los artículos publicados.

Todos los artículos aceptados y publicados en la Revista Horizonte Médico se distribuyen gratuitamente bajo los términos de la licencia Creative Commons Attribution 4.0 International (CC BY 4.0).