Empiema necessitatis y tuberculosis diseminada en un paciente adulto inmunocompetente: reporte de caso
Alejandra Bendezú Chacaltana

Hospital Nacional Guillermo Almenara Irigoyen. Lima, Perú.
Resumen
La tuberculosis diseminada es rara en el huésped inmunocompetente. Resulta de la diseminación linfohematógena de Mycobacterium tuberculosis durante la tuberculosis primaria y postprimaria. Este es un reporte de caso de un paciente varón que ingresa al hospital por presentar signos clásicos de proceso infeccioso a nivel pulmonar y articular, además de presentar una masa en la pared torácica anterior derecha y colección pleural derecha. Pensándose que se trataba de un empiema necessitatis, una extensión de líquido pleural purulento a través de tejidos adyacentes que forman un absceso en la pared torácica, se decide su hospitalización. Empiema necessitatis es un hallazgo raro en la actualidad. Tuberculosis es la causa más común de empiema necessitatis.
##plugins.generic.usageStats.downloads##
##plugins.generic.usageStats.noStats##
Citas
(1). Brigden G, Hewison C, Varaine F. New developments in the treatment of drug-resistant tuberculosis: clinical utility of bedaquiline and delamanid. Infect Drug Resist. 2015; 8: 367–378.

(2). Hilal T, Hurley P, McCormick M. Disseminated tuberculosis with tuberculous meningitis in an immunocompetent host. Oxf Med Case Reports. 2014; 2014(7): 125-8.

(3). Marco A, Solé R, Raguer E, Aranda M. Goma o absceso tuberculoso metastásico como diagnóstico inicial de tuberculosis en un paciente inmunocompetente: una presentación inusual. Rev esp sanid penit.2014; 16(2): 59-62.

(4). Hatice S, Hatice I, SevilI, Hakan T, Muammer B. Disseminated tuberculosis in a non immune compromised patient with a complicated diagnosis. Respir Med Case Rep. 2015; 14: 1-3.

(5). Ramos P, Ramos H, Lopes F, Medeiros Z, Maciel M, Florencio R et al. Multifocal skeletal tuberculosis in an immunocompetent patient: a case report. BMC Infect Dis. 2015; 15:235.

(6). Scott K, Fidaa S, Derek F, Jinesh M. Empyema Necessitatis. Chest. 2010; 138: 1-2.

(7). Magness D. Empyema necessitans caused by Mycobacterium tuberculosis in an immunocompetent patient. WMJ. 2013;112(3):129-30.

(8). Mendes M, Alves M, Bernardes J, Santos L. Empyema necessitans: very late complication of pulmonary tuberculosis. BMJ Case Rep. 2013.

(9). Ramirez M, MenéndezA, NogueradoA. Tuberculosis extrapulmonar, una revisión. Rev Esp Sanid Penit. 2015; 17(1):3-11.

(10). Babamahmoodi F, Davoodi L, Sheikholeslami R, Ahangarkani F. Tuberculous Empyema Necessitatis in a 40-Year-Old Immunocompetent Male. Case reports in infectious diseases. 2016:2016; 4.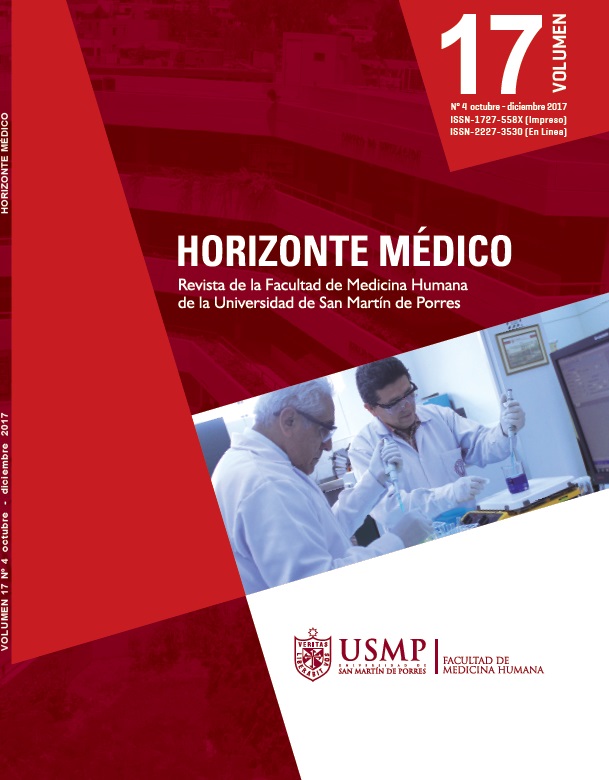 El contenido de la Revista Horizonte Médico es de libre acceso, de manera gratuita, con el fin de divulgar los trabajos y experiencias desarrolladas en el área biomédica y de salud pública realizados a nivel nacional e internacional, promoviendo la investigación en los diferentes campos de la medicina humana.

La Revista Horizonte Médico mantiene los derechos de autoría, distribución y reproducción de los artículos publicados.

Todos los artículos aceptados y publicados en la Revista Horizonte Médico se distribuyen gratuitamente bajo los términos de la licencia Creative Commons Attribution 4.0 International (CC BY 4.0).