Hemorragia digestiva como manifestación de neurofibromatosis tipo I: reporte de un caso
Palabras clave:
Neurofibromatosis 1, Malformaciones vasculares, Hemorragia gastrointestinal
Resumen
Presentamos el caso de un paciente de 40 años con diagnóstico previo de neurofibromatosis y un antecedente crónico de episodios de rectorragias intermitentes que acude al servicio de emergencia por una rectorragia asociada a hipotensión y taquicardia, y es hospitalizado. En los exámenes complementarios se evidencian hemorroides internas de grado 1 que no se correlacionaban con las características clínicas del paciente. Debido a la naturaleza intermitente del cuadro hemorrágico se sospechó de alguna malformación vascular, la cual se confirmó posteriormente mediante una angiografía abdomino-pélvica.
Descargas
Los datos de descargas todavía no están disponibles.
Citas
Orraca M, Morejón G, Cabrera N, Menéndez R, Orraca O. Neurofibromatosis 1: prevalence in children aged 9–11 years, Pinar del Río Province, Cuba. MEDICC Rev. 2014; 16(3): 5.
Duque Serna FL, Ramírez Usuga OA. Neurofibromatosis: reporte de un caso. Rev Facultad Odontología Universidad de Antioquía. 2010; 21(2): 218-25.
Pascual Castroviejo I, Fundación ONCE. Neurofibromatosis. Madrid: Escuela Libre: Fundación ONCE; 2001.
Kresak JL, Walsh M. Neurofibromatosis: a review of NF1, NF2, and schwannomatosis. J Pediatr Genet. 2016; 5(2): 98-104.
Gottfried ON, Viskochil DH, Couldwell WT. Neurofibromatosis Type 1 and tumorigenesis: molecular mechanisms and therapeutic implications. Neurosurg Focus. 2010; 28(1): E8.
Ferner RE, Huson SM, Thomas N, Moss C, Willshaw H, Evans DG, et al. Guidelines for the diagnosis and management of individuals with neurofibromatosis 1. J Med Genet. 2007; 44(2): 81-8.
Agaimy A, Vassos N, Croner RS. Gastrointestinal manifestations of neurofibromatosis type 1 (Recklinghausen' disease): clinicophatological spectrum with pathogenetic considerations. Int J Clin Exp Pathol. 2012; 5(9): 852-62.
Basile U, Cavallaro G, Polistena A, Giustini S, Orlando G, Cotesta D, et al. Gastrointestinal and retroperitoneal manifestations of type 1 neurofibromatosis. J Gastrointest Surg. 2010; 14(1): 186-94.
Rastogi R. Intra-abdominal manifestations of von recklinghausen's neurofibromatosis. Saudi J Gastroenterol. 2008; 14(2): 80-2.
Carter JE, Laurini JA. Isolated intestinal neurofibromatous proliferations in the absence of associated systemic syndromes. World J Gastroenterol. 2008; 14(42): 6569.
Jadraque Rodríguez R, Martínez Salio A, García de Álvaro MT, Porta Etessam J, Torres Mohedas J, Mateos Beato F. Malformación arteriovenosa en la neurofibromatosis tipo I. Caso clínico y revisión de la literatura. Rev Neurol. 2000; 31(11): 1043.
Palazzuoli A, Pellegrini M, Ruocco G, Nuti R. A multidisciplinary approach in neurofibromatosis 1. Lancet Neurol. 2015; 14(1): 29.
Morello F, Shah P, Dowling K, Siskin G. A hemorrhagic complication of neurofibromatosis. J Vasc Interv Radiol. 2001; 12(6): 773-4.
Boyd KP, Korf BR, Theos A. Neurofibromatosis type 1. J Am Acad Dermatol. 2009; 61(1): 1-14.
Navarro EG, Martínez MB, Gómez EG. Protocolo de seguimiento de la neurofibromatosis tipo 1. Protoc Diagn Ter Ped Pediatr. 2010; 1: 44-50
Ali SR, Hendrickson SA, Collin G, Oxley J, Warr RP. Solitary neurofibroma of the face masquerading as a low-flow vascular malformation – case report and experience of management. JPRAS Open. 2019; 19: 67-72.
Abbas Z, Khani S, Zare J. Arteriovenous malformation underlying a plexiform neurofibroma: an unusual presentation. Indian Dermatol Online J. 2017; 8(2): 128.
Han M, Criado E. Renal artery stenosis and aneurysms associated with neurofibromatosis. J Vasc Surg. 2005; 41(3): 539-43.
Chew DKW, Muto PM, Gordon JK, Straceski AJ, Donaldson MC. Spontaneous aortic dissection and rupture in a patient with neurofibromatosis. J Vasc Surg. 2001; 34(2): 364-6.
Díaz CA, et al. Vasculopatía cerebral en neurofibromatosis tipo I. Rev Mex Neuroci. 2010; 11(6): 487-92.
Morvan T, de Broucker F, de Broucker T. Subarachnoid hemorrhage in neurofibromatosis type 1: case report of extracranial cerebral aneurysm rupture into a meningocele. J Neuroradiol. 2011; 38(2): 125-8.
Sareli AE, Marshall DS. A devastating complication of type 1 neurofibromatosis. Am J Respir Crit Care Med. 2012; 185(9): e12-3.
Molina-Martin de Nicolas J, Jurado Roman A, Rubio Alonso B, Garcia Tejada J. Recurrent myocardial infarctions due to thrombosis of a coronary aneurysm in neurofibromatosis type 1. JACC Cardiovasc Interv. 2015; 8(4): e55-7.
Lu J, Liu H, Zhang L, Ma L, Zhou H. Corkscrew retinal vessels and retinal arterial macroaneurysm in a patient with neurofibromatosis type 1: a case report. Medicine (Baltimore). 2018; 97(30): e11497.
Gao P, Chen Y, Zhang H, Zhang P, Ling F. Vertebral arteriovenous fistulae (avf) in neurofibromatosis type 1: a report of 2 cases. Turk Neurosurg. 2013; 23(2): 289-93.
Sangolli P. Neurofibromatosis-1 with bilateral partial radial artery stenosis. Indian Dermatol Online J. 2012; 3(1): 51.
Kitano D, Harasawa K, Saruya T, Tochihara T. Multiple cardiovascular stenoses in a 66-year-old woman with neurofibromatosis type 1: virtual-histology intravascular ultrasound findings. Eur Heart J Case Rep. 2018; 2(1): yty015.
Jiménez-Gil R, Arroyo-Bielsa A, Barrio-Rodríguez C, ÁlvarezSalgado A, Carmona-Berriguete S, Montero-Mendizábal R, et al. Lesiones
vasculares múltiples y precoces en la neurofibromatosis. Descripción de un caso clínico y revisión bibliográfica. Angiología. 2002; 54(3): 259-64.
Gu B, Kwon S. Spontaneous hemothorax secondary to ruptured right subclavian artery from neurofibromatosis tumor. Chest. 2015; 148(4): 36.
NetMD. Hemotórax masivo espontáneo en paciente con neurofibromatosis tipo 1 [Internet]. 2020. Disponible en: https://netmd.org/medicina-intensiva/medicina-intensivaarticulos/hemotorax-masivo-espontaneo-en-paciente-conneurofibromatosis-tipo-1
Terry AR, Jordan JT, Schwamm L, Plotkin SR. Increased risk of cerebrovascular disease among patients with neurofibromatosis type 1: population-based approach. Stroke. 2016; 47(1): 60-5.
Lazea C, Asavoaie C, Alkhzouz C, Popa L. Rare complications of neurofibromatosis 1 diagnosed incidentally in two children. Ther Clin Risk Manag. 2018; 14: 1547-52.
Rodrigues LO, Rodrigues LOC, Castro LL, Rezende NA, Ribeiro ALP. Non-invasive endothelial function assessment in patients with neurofibromatosis type 1: a cross-sectional study. BMC Cardiovasc Disord. 2013; 13(1): 18.
Hamilton S, Friedman J. Insights into the pathogenesis of neurofibromatosis 1 vasculopathy: pathogenesis of NF1 vasculopathy. Clin Genet. 2001; 58(5): 341-4.
Quiroga S, Pérez M, Abu-Suboh M, Castell J. Hemorragia digestiva: papel de la radiología. Radiología. 2011; 53(5): 406-20.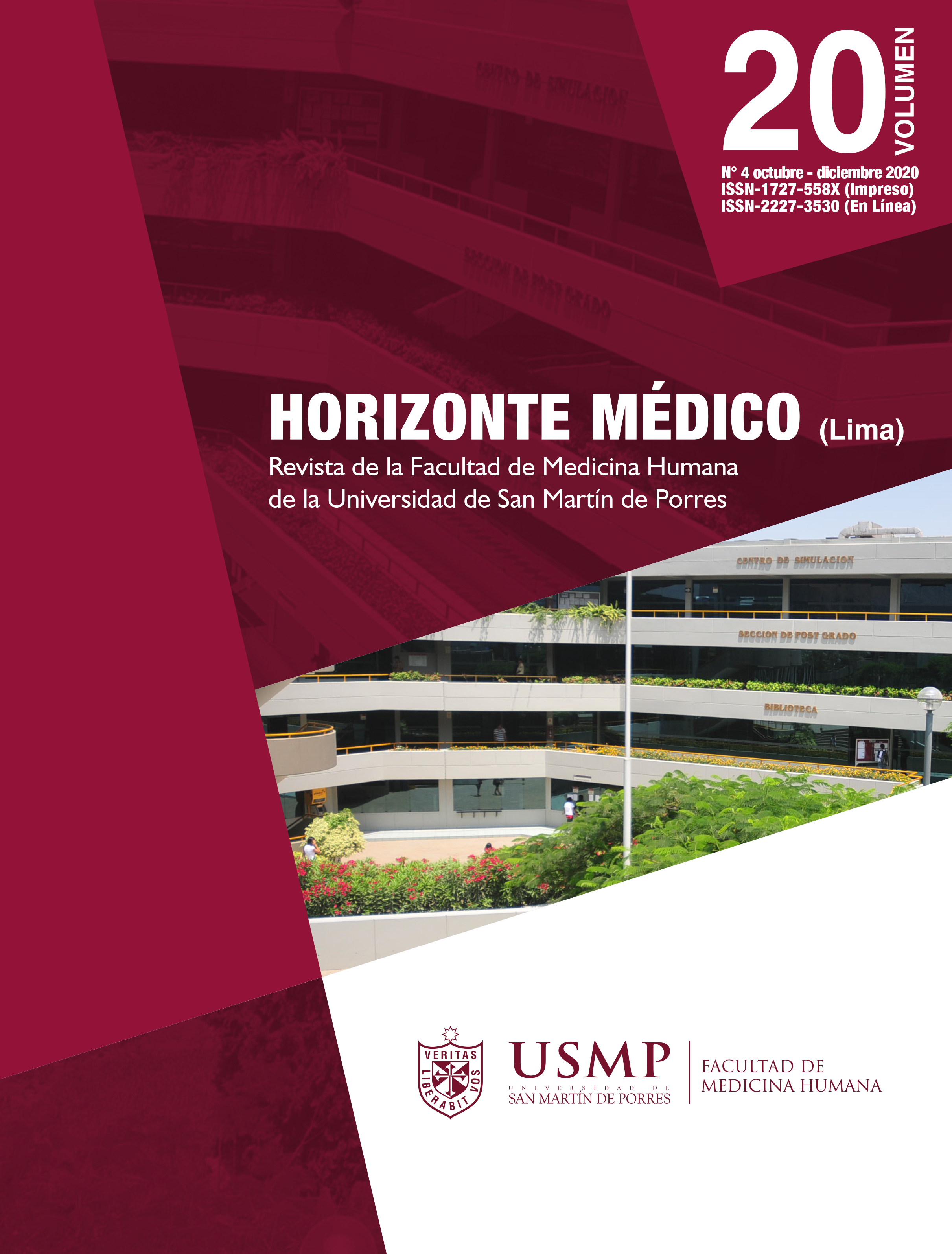 Cómo citar
1.
Gamarra Osorio ER, Ruiz Vega PD. Hemorragia digestiva como manifestación de neurofibromatosis tipo I: reporte de un caso. Horiz Med [Internet]. 28 de diciembre de 2020 [citado 28 de septiembre de 2023];20(4):e1326. Disponible en: https://www.horizontemedico.usmp.edu.pe/index.php/horizontemed/article/view/1326
Licencia
Derechos de autor 2020 Elman Rolando Gamarra Osorio, Pedro D'Angelo Ruiz Vega
Esta obra está bajo una licencia internacional Creative Commons Atribución 4.0.
El contenido de la Revista Horizonte Médico es de libre acceso, de manera gratuita, con el fin de divulgar los trabajos y experiencias desarrolladas en el área biomédica y de salud pública realizados a nivel nacional e internacional, promoviendo la investigación en los diferentes campos de la medicina humana.

La Revista Horizonte Médico mantiene los derechos de autoría, distribución y reproducción de los artículos publicados.

Todos los artículos aceptados y publicados en la Revista Horizonte Médico se distribuyen gratuitamente bajo los términos de la licencia Creative Commons Attribution 4.0 International (CC BY 4.0).