Hablando de pandemias y pared vascular. Desde el endotelio hacia lo socioeconómico-psicológico: una aproximación con evidencia
Palabras clave:
Pandemias, COVID-19, SARS-CoV-2, Endotelio
Resumen
En este artículo se hace una somera revisión de las pandemias sufridas por la humanidad a través de la historia y, además, un análisis de la presente pandemia, producida por un "extraño" virus que ha generado una enfermedad nueva y compleja. De ella, describimos su "nueva" fisiopatología centrada en la pared vascular (y, más concretamente, en el endotelio) y planteamos la posibilidad de detectar una disfunción endotelial subclínica en pacientes jóvenes, quienes han demostrado susceptibilidad y letalidad diferentes. Finalmente, se trata de contestar la pregunta: ¿esta pandemia nos cambiará o ayudará a cambiarnos?
Descargas
Los datos de descargas todavía no están disponibles.
Citas
Zhou P, Yang X-L, Wang X-G, Hu B, Zhang L, Zhang W, et al. A pneumonia outbreak associated with a new coronavirus of probable bat origin. Nature. 2020; 579: 270-3.
Bogoch II, Watts A, Thomas-Bachli A, Huber C, Kraemer MUG, Khan K. Pneumonia of unknown aetiology in Wuhan, China: potential for international spread via commercial air travel. J Travel Med. 2020; 27(2): taaa008.
Lu H, Stratton CW, Tang YW. Outbreak of pneumonia of unknown etiology in Wuhan, China: The mystery and the miracle. J Med Virol. 2020; 92(4): 401-2.
Cheng VCC, Lau SKP, Woo PCY, Yuen KY. Severe acute respiratory syndrome coronavirus as an agent of emerging and reemerging infection. Clin Microbiol Rev. 2007; 20(4): 660-94.
Rothan HA, Byrareddy SN. The epidemiology and pathogenesis of coronavirus disease (COVID-19) outbreak. J Autoimmun. 2020; 109: 102433.
Wang W, Tang J, Wei F. Updated understanding of the outbreak of 2019 novel coronavirus (2019‐nCoV) in Wuhan, China. J Med Virol. 2020; 92(4): 441-7.
Holshue ML, DeBolt C, Lindquist S, Lofy KH, Wiesman J, Bruce H, et al. First case of 2019 Novel coronavirus in the United States. N Engl J Med. 2020; 382(10): 929-36.
Provenzano E. Coronavirus: Que sait-on du cas détecté à Bordeauz? [Internet]. Francia; 2020. Disponible en: https://www.20minutes.fr/bordeaux/2703783-20200126-coronavirus-sait-cas-detecte-bordeaux.
Folha de Sao Paulo. Brasil confirma primeiro caso do novo coronavírus [Internet]. Brasil; 2020. Disponible en: https://www1.folha.uol.com.br/equilibrioesaude/2020/02/brasil-confirma-primeiro-caso-do-novo-coronavirus.shtml.
Huang C, Wang Y, Li X, Ren L, Zhao J, Hu Y, et al. Clinical features of patients infected with 2019 novel coronavirus in Wuhan, China. Lancet. 2020; 395(10223): 497-506.
Velavan TP, Meyer CG. The COVID‐19 epidemic. Trop Med Int Health. 2020; 25(3): 278-80.
Cui J, Li F, Shi ZL. Origin and evolution of pathogenic coronaviruses. Nat Rev Microbiol. 2019; 17(3): 181-92.
Monto AS. Medical Reviews. Coronaviruses. Yale J Biol Med. 1974; 47(4): 234-51.
Ole J. La Peste Negra, 1346-1353. La historia completa. Editorial Akal: Madrid; 2011.
López MM, Cardona Zorrilla AF. Rastros visibles del enemigo invisible: las epidemias en la historia. Rev Medicina. 2020; 42(2): 152-67.
Jácome Roca A. Las Pandemias de la Historia. Rev Medicina. 2020; 42(2): 140-2.
Diamond J. Guns, Germens y Steel. Penguim Random House Grupo Editorial: Madrid; 2007.
Carsana L, Sonzogni A, Nasr A, Rossi RS, Pellegrinelli A, Zerbi P, et al. Pulmonary post-mortem findings in a large series of COVID-19 cases from Northern Italy. MedRxiv. 2020.
Melgarejo E. COVID-19: extraño nuevo virus, endotelio y enseñanzas de una pandemia. Acta Méd Colomb. 2020; 45(3): 111-4.
Wong CK, Lam CWK, Wu AKL, Ip WK, Lee NLS, Chan IHS, et al. Plasma inflammatory cytokines and chemokines in severe acute respiratory syndrome. Clin Exp Immunol. 2004; 136(1): 95-103.
Klok FA, Kruip MJHA, van der Meer NJM, Arbous MS, Gommers DAMPJ, Kant KM, et al. Incidence of thrombotic complications in critically ill ICU patients with COVID-19. Thromb Res. 2020; 191: 145-7.
Zhou F, Yu T, Du R, Fan G, Lui Y, Liu Z. Factors for mortality of adult inpatients with COVID-19 in Wuhan, China: a retrospective cohort study. Lancet. 2020; 395: 1054-62.
Loperena R, Van Beusecum JP, Itani HA, Engel N, Larougmanie F, Xiao L, et al. Hypertension and increased endothelial mechanical stretch promote monocyte differentiation and activation: roles of STAT3, interleukin 6 and hydrogen peroxide. Cardiovasc Res. 2018; 114(11): 1547-63.
Mitchell GF, Guo C-Y, Benjamin EJ, Larson MG, Keyes MJ, Vita JA, et al. Cross-sectional correlates of increased aortic stiffness in the community: the Framingham Heart Study. Circulation. 2007; 115(20): 2628-36.
Avogrp A, Albiero M, Mangazzo L. Diabetes Mellitus: an inflamatory state. Care. 2011; 34(Suppl. 2): S285-90.
Ellulu MS, Patimah I, Khaza'ai H, Rahmat A, Abed Y. Obesity and inflammation: the linking mechanism and the complications. Arch Med Sci. 2017; 13(4): 851-63.
Hoffmann M, Kleine-Weber H, Schroeder S, Krüger N, Herrler T, Erichsen S, et al. SARS-CoV-2 cell entry depends on ACE2 and TMPRSS2 and is blocked by a clinically proven protease inhibitor. Cell. 2020; 181(2): 271-80.
Zunke F, Rose-John S. The shedding protease ADAM17: Physiology and pathophysiology. Biochim Biophys Acta Mol Cell Res. 2017; 1864(11 Pt B): 2059-70.
Zheng Y-Y, Ma Y-T, Zhang J-Y, Xie X. COVID-19 and the cardiovascular system. Nat Rev Cardiol. 2020; 17(5): 259-60.
National Institutes of Health (NIH). Coronavirus disease 2019 (COVID-19) treatment Guidelines [Internet]. Bethesda; 2020. Disponible en: https://www.covid19treatmentguidelines.nih.gov/
Kreutz R, El-Hady Algharably EA, Azizi M, Dobrowolski P, Guzik T, Januszewicz A, et al. Hypertension, the renin–angiotensin system, and the risk of lower respiratory tract infections and lung injury: implications for COVID-19. Cardiovasc Res. 2020; 116(10): 1688-99.
Wu A, Good C, Downs JR, Fine MJ, Pugh MJ, Anzueto A, et al. The association of cardioprotective medications with pneumonia-related outcomes. 2014; 9(1): e85797.
Zhang P, Zhu L, Cai J, Lei F, Qin J-J, Xie J, et al. Association of inpatient use of angiotensin Converting Enzyme Inhibitors and Angiotensin II receptor blockers with mortality among patients with hypertension hospitalized with COVID-19. Circ Res. 2020; 126(12): 1671-81.
Levi M, Van der Poll T, Büller HR. Bidirectional relation between inflammation and coagulation. Circulation. 2004; 109(22): 2698-704.
Chatre C, Roubille F, Vernhet H, Jorgensen C, Pers Y-M. Cardiac complications attributed to chloroquine and hydroxychloroquine: a systematic review of the literature. Drug Saf. 2018; 41(10): 919-31.
Sala S, Peretto G, Gramegna M, Palmisano A, Villatore A, Vignale D, et al. Acute myocarditis presenting as a reverse TakoTsubo syndrome in a patient with SARS-CoV-2 respiratory infection. Eur Heart J. 2020; 41(19): 1861-2.
Ruan Q, Yang K, Wang W, Jiang L, Song J. Clinical predictors of mortality due to COVID-19 based on an analysis of data of 150 patients from Wuhan, China. Intensive Care Med. 2020; 46(5): 846-8.
Chen D, Li X, Song Q, Hu C, Su F, Dai J, et al. Hypokalemia and clinical implications in patients with coronavirus disease 2019 (COVID-19). MeRxiv. 2020.
Marini JJ, Rocco PRM, Gattinoni L. Static and dynamic contributors to ventilator-induced lung injury in clinical practice. pressure, energy, and power. Am J Respir Crit Care Med. 2020; 201(7): 767-74.
Patel BK, Kress JP, Hall JB. Alternatives to invasive ventilation in the COVID-19 pandemic. JAMA. 2020; 324(1): 43-4.
World Health Organization. Corticosteroids for COVID-19: living guidance, 2 september 2020 [Internet]. Disponible en: https://apps.who.int/iris/handle/10665/334125
Ellinghaus D, Degenhardt F, Bujanda L, Buti M, Albillos A, Invernizzi P, et al. The ABO blood group locus and a chromosome 3 gene cluster associate with SARS-CoV-2 respiratory failure in an Italian-Spanish genome-wide association analysis. medRxiv. 2020.
Rippenger TJ, Uhrlaub JL, Watanabe M, Wong R, Castaneda Y, Pizzato HA, et al. Orthogonal SARS-CoV-2 serological assays enable surveillance of low prevalence communities and reveal durable humoral immunity. Immunity. 2020; 44-71.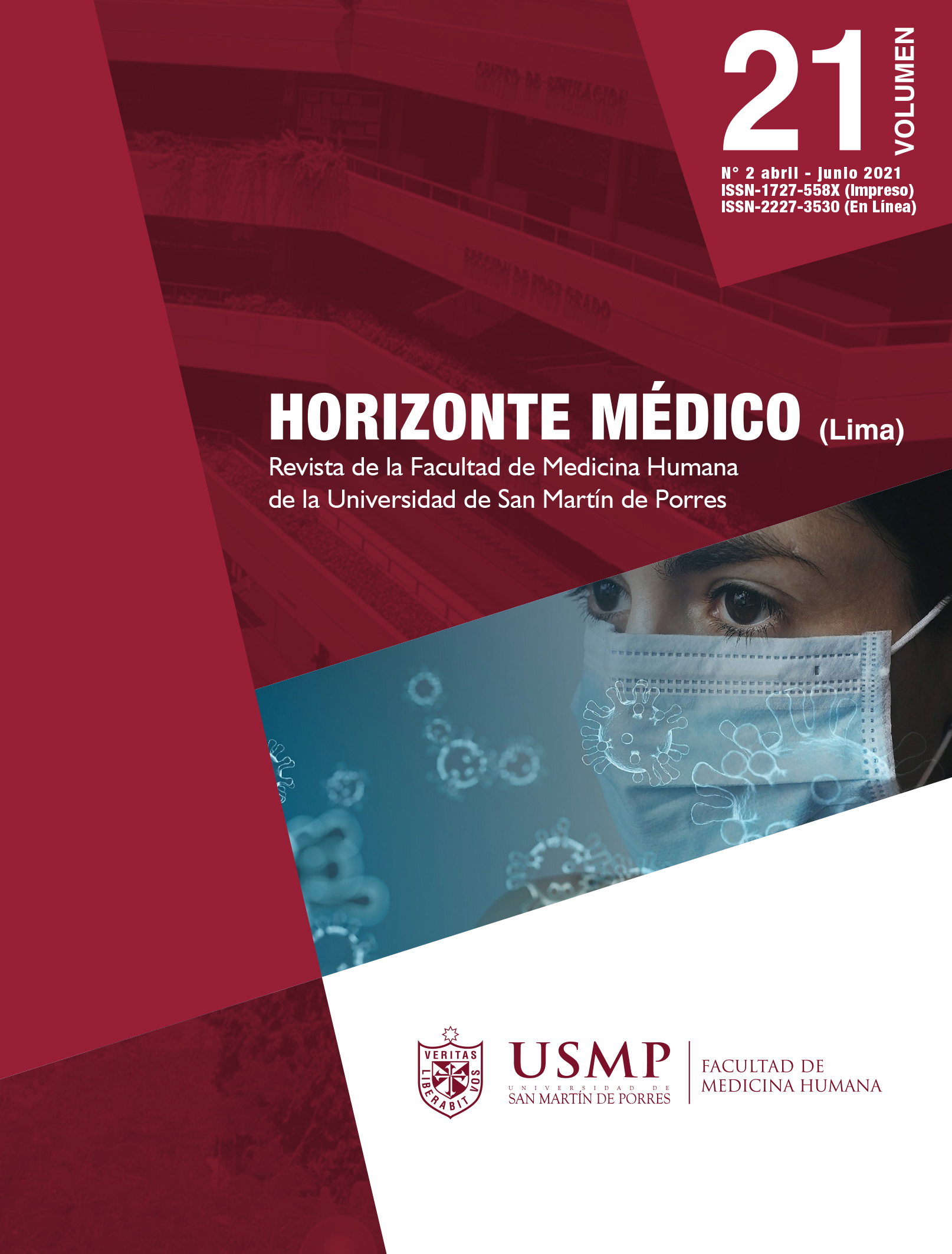 Cómo citar
1.
Melgarejo R E. Hablando de pandemias y pared vascular. Desde el endotelio hacia lo socioeconómico-psicológico: una aproximación con evidencia. Horiz Med (Lima) [Internet]. 21 de mayo de 2021 [citado 12 de agosto de 2022];21(2):e1521. Disponible en: https://www.horizontemedico.usmp.edu.pe/index.php/horizontemed/article/view/1521
Sección
Artículos de revisión
Licencia
Derechos de autor 2021 Enrique Melgarejo R.
Esta obra está bajo una licencia internacional Creative Commons Atribución 4.0.
El contenido de la Revista Horizonte Médico es de libre acceso, de manera gratuita, con el fin de divulgar los trabajos y experiencias desarrolladas en el área biomédica y de salud pública realizados a nivel nacional e internacional, promoviendo la investigación en los diferentes campos de la medicina humana.

La Revista Horizonte Médico mantiene los derechos de autoría, distribución y reproducción de los artículos publicados.

Todos los artículos aceptados y publicados en la Revista Horizonte Médico se distribuyen gratuitamente bajo los términos de la licencia Creative Commons Attribution 4.0 International (CC BY 4.0).