Duración subóptima del sueño y fenotipo circadiano en mujeres adultas residentes de Valencia, Venezuela atendidas en jornadas de salud. Perfil cardiometabólico asociado
Resumen
Objetivo: Evaluar la duración del sueño y fenotipos circadianos y su asociación con variables sociodemográficas y clínicas, de estilo de vida e indicadores de riesgo cardiometabólico en mujeres adultas. Materiales y métodos: Estudio transversal de 108 mujeres adultas residentes de la ciudad de Valencia, Venezuela atendidas en jornadas de salud. Se establecieron variables sociodemográficas, clínicas y estilo de vida, duración de sueño autoinformada durante la semana, fin de semana y ponderada (corta: < 7 h o larga: > 9 h) y fenotipo circadiano o cronotipo mediante la versión reducida del cuestionario de matutinidad de Horne y Östberg. Se midieron presión arterial, peso, talla, circunferencia de cintura y biomarcadores en sangre venosa. Se calcularon tres puntajes de estatus cardiometabólico. Se estableció hipertensión arterial (HTA) y síndrome metabólico (SM). Resultados: Se encontró duración corta de sueño ponderada en 21,3 % de las mujeres y duración larga ponderada en 16,7 %. El 28,7 % mostró cronotipo claramente matutino; 38 %, moderadamente matutino; 32,4 %, indefinido y 0,9 %, moderadamente vespertino, sin casos de cronotipo claramente vespertino. La duración corta de sueño y los cronotipos matutinos fueron más frecuentes en mujeres mayores de 40 años. La duración de sueño se asoció a estado civil, ocupación y condición de exfumadora; los cronotipos se asociaron a posmenopausia. La duración corta se asoció a obesidad abdominal e hipertensión arterial (HTA), elevación de gamma-glutamil transferasa y ácido úrico. La duración larga se asoció a glicemia y transaminasas más elevadas. El cronotipo claramente matutino se asoció a HTA, SM y número de componentes del SM presentes. La duración corta de sueño y el cronotipo claramente matutino predijeron elevado riesgo cardiometabólico, al ajustar por edad y posmenopausia esta asociación desapareció. Conclusiones: La duración subóptima del sueño y los fenotipos circadianos se asociaron a variables socio demográficas, clínicas y de riesgo cardiometabólico. La duración corta de sueño y el cronotipo claramente matutino predijeron elevado riesgo cardiometabólico.
Descargas
Los datos de descargas todavía no están disponibles.
Citas
1. World Health Organization. Global status report on noncommunicable diseases 2014. Génova: World Health Organization; 2014. Disponible en: http://apps.who.int/iris/bitstream/10665/148114/1/9789241564854_eng.pdf?ua=1

2. Ministerio para el Poder Popular para la Salud. Anuario de mortalidad 2013. Caracas: MPPS; 2017. Disponible en: https://www.ovsalud.org/descargas/publicaciones/documentos- oficiales/Anuario-Mortalidad-2013.pdf

3. Beccuti G, Pannain S. Sleep and obesity. Curr Opin Clin Nutr Metab Care. 2011 Jul;14(4):402-12.

4. Cappuccio FP, Taggart FM, Kandala NB, Currie A, Peile E, Stranges S, et al. Meta-analysis of short sleep duration and obesity in children and adults. Sleep. 2008 May;31(5):619-26.

5. Knutson KL. Sleep duration and cardiometabolic risk: a review of the epidemiologic evidence. Best Pract Res Clin Endocrinol Metab. 2010 Oct;24(5):731-43.

6. Xi B, He D, Zhang M, Xue J, Zhou D. Short sleep duration predicts risk of metabolic syndrome: a systematic review and meta- analysis. Sleep Med Rev. 2014 Aug;18(4):293-7.

7. Gnocchi D, Bruscalupi G. Circadian Rhythms and Hormonal Homeostasis: Pathophysiological Implications. Biology (Basel). 2017 Mar;6(1):10.

8. Levandovski R, Sasso E, Hidalgo MP. Chronotype: a review of the advances, limits and applicability of the main instruments used in the literature to assess human phenotype. Trends Psychiatry Psychother. 2013;35(1):3-11.

9. García-Maldonado G, Sánchez-Juárez IG, Martínez-Salazar GJ, Llanes-Castillo A. Cronobiología: Correlatos básicos y médicos. Rev Med Hosp Gen Méx. 2011 Abr;74(2):108-14.

10. Yu JH, Yun CH, Ahn JH, Suh S, Cho HJ, Lee SK, et al. Evening chronotype is associated with metabolic disorders and body composition in middle-aged adults. J Clin Endocrinol Metab. 2015 Apr 100(4):1494-502.

11. Querales M, Baloa N, Varela I, Ruiz Fernández N. Insuficiencia de sueño o descanso se asocia a elevado riesgo cardiometabólico en mujeres carabobeñas de estrato socioeconómico bajo. Rev Venez Endocrinol Metab. 2012 Oct;10(3):142-51.

12. Bouscoulet LT, Vázquez-García JC, Muiño A, Márquez M, López MV, Montes de oca MM, et al. Prevalence of sleep related symptoms in four Latin American cities. J Clin Sleep Med. 2008;4(6):579-85.

13. Smith CS, Folkard S, Schmieder RA, Parra LF, Spelten E, Almiral H, et al. Investigation of morning-evening orientation in six countries using the preferences scale. Pers Individ Dif. 2002 Apr 19;32(6):949-68.

14. von Schantz M, Taporoski TP, Horimoto AR, Duarte NE, Vallada H, Krieger JE, et al. Distribution and heritability of diurnal preference (chronotype) in a rural Brazilian family-based cohort, the Baependi study. Sci Rep. 2015 March 18;5:9214.

15. Hirshkowitz M, Whiton K, Albert SM, Alessi C, Bruni O, DonCarlos L, et al. National Sleep Foundation's sleep time duration recommendations: methodology and results summary. Sleep Health. 2015 Mar;1(1):40-3.

16. Adan Puig A, Almirall H. Estandarización de una escala reducida de matutinidad en población española: diferencias individuales. Psicothema. 1990;2(2):137-49.

17. Organización Mundial de la Salud. El Estado Físico: Uso e Interpretación de la Antropometría Ginebra: World Health Organization; 1995. Disponible en: http://apps.who.int/iris/bitstream/handlehttp://apps.who.int/iris/bitstream/handle/10665/42132/WHO_TRS_854_spa. pdf;jsessionid=6FC4A30C4FE2956CF4B11829C 1FF3B79?sequencez=1

18. Ashwell M, Hsieh SD. Six reasons why the waist-to-height ratio is a rapid and effective global indicator for health risks of obesity and how its use could simplify the international public health message on obesity. Int J Food Sci Nutr. 2005 Aug;56(5):303-7.

19. Chobanian AV, Bakris GL, Black HR, Cushman WC, Green LA, Izzo JL Jr, et al. The Seventh Report of the Joint National Committee on Prevention, Detection, Evaluation, and Treatment of High Blood Pressure: The JNC 7 Report. JAMA. 2003 May;289(19):2560-72.

20. Ingram GIC. The determination of plasma fibrinogen by the clot weight method. Biochem J. 1952 Aug;51(5):583-5.

21. Alberti KG, Eckel RH, Grundy SM, Zimmet PZ, Cleeman JI, Donato KA, et al. Harmonizing the metabolic syndrome: a joint interim statement of the International Diabetes Federation Task Force on Epidemiology and Prevention; National Heart, Lung, and Blood Institute; American Heart Association; World Heart Federation; International Atherosclerosis Society; and International Association for the Study of Obesity. Circulation. 2009 Oct 20;120(16):1640-5.

22. Zhang Y, Zhu CG, Guo YL, Xu RX, Li S, Dong Q, et al. Higher fibrinogen level is independently linked with the presence and severity of new-onset coronary atherosclerosis among Han Chinese population. PLoS One. 2014 Nov 26;9(11):e113460.

23. Wakabayashi I, Daimon T. The "cardiometabolic index" as a new marker determined by adiposity and blood lipids for discrimination of diabetes mellitus. Clin Chim Acta. 2015 Jan 01;438:274-8.

24. Soldatovic I, Vukovic R, Culafic D, Gajic M, Dimitrijevic-Sreckovic V. siMS Score: Simple Method for Quantifying Metabolic Syndrome. PLoS One. 2016;11(1):e0146143.

25. Patel SR, Sotres-Alvarez D, Castañeda SF, Dudley KA, Gallo LC, Hernández R, et al. Social and Health Correlates of Sleep Duration in a US Hispanic Population: Results from the Hispanic Community Health Study/Study of Latinos. Sleep. 2015 Oct 01;38(10):1515-22.

26. Chen Y, Kartsonaki C, Clarke R, Guo Y, Yu C, Bian Z, et al. Characteristics and correlates of sleep duration, daytime napping, snoring and insomnia symptoms among 0.5 million Chinese men and women. Sleep Med. 2018 Apr;44:67-75.

27. Cepeda MS, Stang P, Blacketer C, Kent JM, Wittenberg GM. Clinical Relevance of Sleep Duration: Results from a Cross- Sectional Analysis Using NHANES. J Clin Sleep Med. 2016 Jun 15;12(6):813-9.

28. Liu Y, Wheaton AG, Chapman DP, Cunningham TJ, Lu H, Croft JB. Prevalence of Healthy Sleep Duration among Adults-- United States, 2014. MMWR Morb Mortal Wkly Rep. 2016 Feb 19;65(6):137-41.

29. Malone SK, Patterson F, Lozano A, Hanlon A. Differences in morning-evening type and sleep duration between Black and White adults: Results from a propensity-matched UK Biobank sample. Chronobiol Int. 2017;34(6):740-52.

30. Basnet S, Merikanto I, Lahti T, Männistö S, Laatikainen T, Vartiainen E, et al. Associations of common noncommunicable medical conditions and chronic diseases with chronotype in a population-based health examination study. Chronobiol Int. 2017;34(4):462-70.

31. Randler C, Prokop P, Sahu S, Haldar P. Cross-cultural comparison of seven morningness and sleep-wake measures from Germany, India and Slovakia. Int J Psychol. 2015 Aug;50(4):279-87.

32. Leocadio-Miguel MA, Louzada FM, Duarte LL, Areas RP, Alam M, Freire MV, et al. Latitudinal cline of chronotype. Sci Rep. 2017 Jul 14;7(1):5437.

33. Malone SK, Patterson F, Lu Y, Lozano A, Hanlon A. Ethnic differences in sleep duration and morning-evening type in a population sample. Chronobiol Int. 2016 Oct 25;33(1):10-21.

34. Egan KJ, Campos Santos H, Beijamini F, Duarte NE, Horimoto AR, Taporoski TP, et al. Amerindian (but not African or European) ancestry is significantly associated with diurnal preference within an admixed Brazilian population. Chronobiol Int. 2017;34(2):269-72.

35. Ohayon MM, Carskadon MA, Guilleminault C, Vitiello MV. Meta- analysis of quantitative sleep parameters from childhood to old age in healthy individuals: developing normative sleep values across the human lifespan. Sleep. 2004 Nov 01;27(7):1255-73.

36. Krueger PM, Friedman EM. Sleep duration in the United States: a cross-sectional population-based study. Am J Epidemiol. 2009 May 01;169(9):1052-63.

37. Roenneberg T, Kuehnle T, Juda M, Kantermann T, Allebrandt K, Gordijn M, et al. Epidemiology of the human circadian clock. Sleep Med Rev. 2007 Dec;11(6):429-38.

38. Díaz-Morales JF, Parra-Robledo Z. Age and Sex Differences in Morningness/Eveningness Along the Life Span: A Cross-Sectional Study in Spain. J Genet Psychol. 2018 Mar-Apr;179(2):71-84.

39. Wang S, Li B, Wu Y, Ungvari GS, Ng CH, Fu Y, et al. Relationship of Sleep Duration with Sociodemographic Characteristics, Lifestyle, Mental Health, and Chronic Diseases in a Large Chinese Adult Population. J Clin Sleep Med. 2017 Mar 15;13(3):377-84.

40. Knutson KL. Sociodemographic and cultural determinants of sleep deficiency: implications for cardiometabolic disease risk. Soc Sci Med. 2013 Feb;79:7-15.

41. Tu X, Cai H, Gao YT, Wu X, Ji BT, Yang G, et al. Sleep duration and its correlates in middle-aged and elderly Chinese women: the Shanghai Women's Health Study. Sleep Med. 2012 Oct;13(9):1138-45.

42. Jaehne A, Loessl B, Bárkai Z, Riemann D, Hornyak M. Effects of nicotine on sleep during consumption, withdrawal and replacement therapy. Sleep Med Rev. 2009 Oct;13(5):363-77.

43. Randler C, Bausback V. Morningness-eveningness in women around the transition through menopause and its relationship with climacteric complaints. Biological Rhythm Research. 2010;41(6):415-31.

44. Cappuccio FP, D'Elia L, Strazzullo P, Miller MA. Quantity and quality of sleep and incidence of type 2 diabetes: a systematic review and meta-analysis. Diabetes Care. 2010 Feb;33(2):414-20.

45. Cespedes EM, Dudley KA, Sotres-Alvarez D, Zee PC, Daviglus ML, Shah NA, et al. Joint associations of insomnia and sleep duration with prevalent diabetes: The Hispanic Community Health Study/ Study of Latinos (HCHS/SOL). J Diabetes. 2016 May;8(3):387-97.

46. Imaizumi H, Takahashi A, Tanji N, Abe K, Sato Y, Anzai Y, et al. The Association between Sleep Duration and Non-Alcoholic Fatty Liver Disease among Japanese Men and Women. Obes Facts. 2015;8(4):234-42.

47. Kanagasabai T, Ardern CI. Contribution of Inflammation, Oxidative Stress, and Antioxidants to the Relationship between Sleep Duration and Cardiometabolic Health. Sleep. 2015 Dec 01;38(12):1905-12.

48. Guo X, Zheng L, Wang J, Zhang X, Zhang X, Li J, et al. Epidemiological evidence for the link between sleep duration and high blood pressure: a systematic review and meta-analysis. Sleep Med. 2013 Apr;14(4):324-32.

49. Rangaraj VR, Knutson KL. Association between sleep deficiency and cardiometabolic disease: implications for health disparities. Sleep Med. 2016 Feb;18:19-35.

50. Merikanto I, Lahti T, Puolijoki H, Vanhala M, Peltonen M, Laatikainen T, et al. Associations of chronotype and sleep with cardiovascular diseases and type 2 diabetes. Chronobiol Int. 2013 May;30(4):470-7.

51. Patterson F, Malone SK, Lozano A, Grandner MA, Hanlon AL. Smoking, Screen-Based Sedentary Behavior, and Diet Associated with Habitual Sleep Duration and Chronotype: Data from the UK Biobank. Ann Behav Med. 2016 Oct;50(5):715-26.

52. Gonnissen HK, Rutters F, Mazuy C, Martens EA, Adam TC, Westerterp-Plantenga MS. Effect of a phase advance and phase delay of the 24-h cycle on energy metabolism, appetite, and related hormones. Am J Clin Nutr. 2012 Oct;96(4):689-97.

53. Herrero L, Valcarcel L, da Silva CA, Albert N, Diez-Noguera A, Cambras T, et al. Altered circadian rhythm and metabolic gene profile in rats subjected to advanced light phase shifts. PLoS One. 2015;10(4):e0122570.

54. Casiraghi LP, Alzamendi A, Giovambattista A, Chiesa JJ, Golombek DA. Effects of chronic forced circadian desynchronization on body weight and metabolism in male mice. Physiol Rep. 2016 Apr 28;4(8):e12743.

55. Plano SA, Casiraghi LP, García Moro P, Paladino N, Golombek DA, Chiesa JJ. Circadian and Metabolic Effects of Light: Implications in Weight Homeostasis and Health. Front Neurol. 2017;8:558.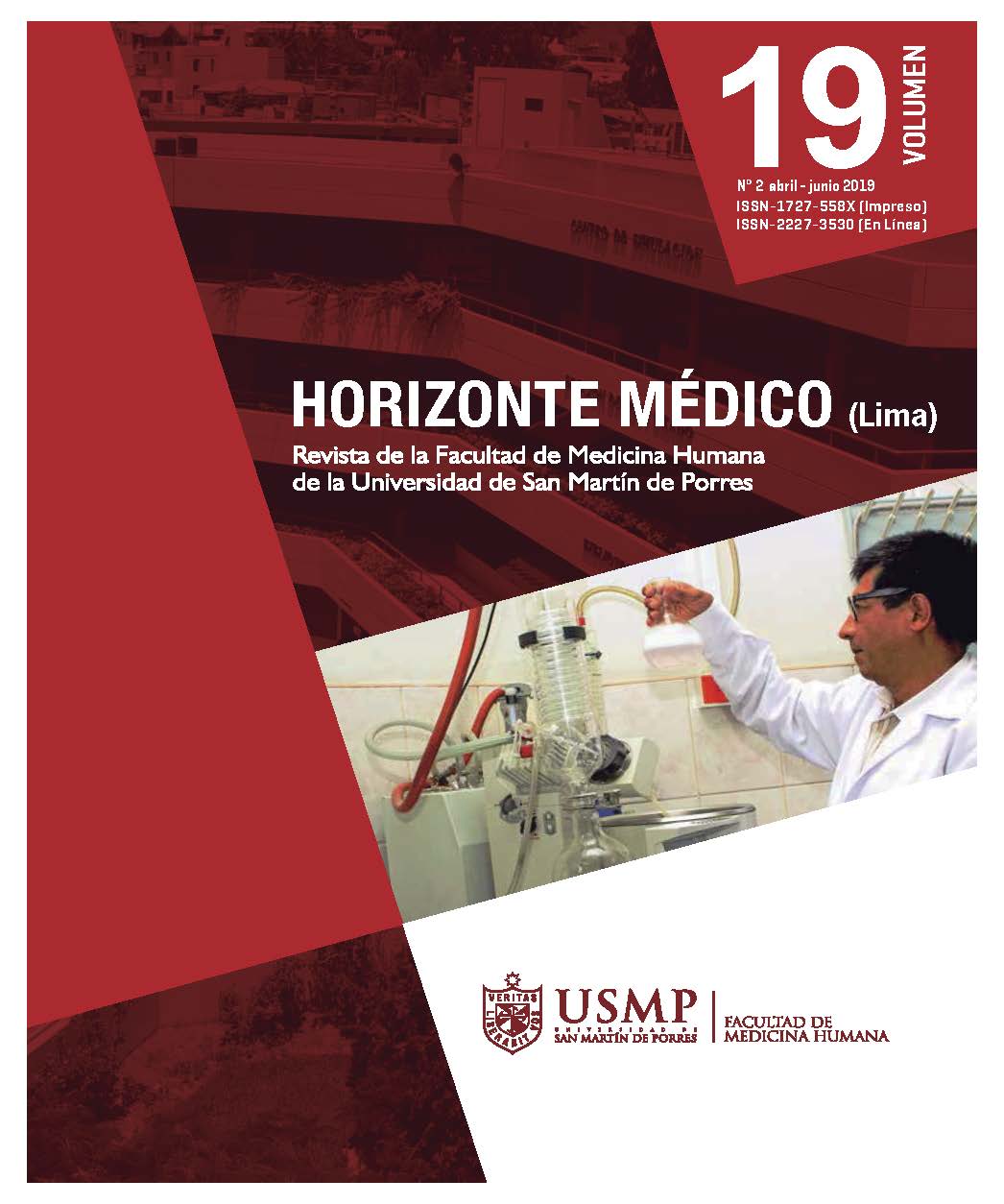 Cómo citar
Ruiz-Fernández, N., Nobrega, D., Varela, I., Fernandez, Y., Mendoza, C., Jesus, J., Villalobos, G., Vega, C., Yoris, M., & Zamora, D. (2019). Duración subóptima del sueño y fenotipo circadiano en mujeres adultas residentes de Valencia, Venezuela atendidas en jornadas de salud. Perfil cardiometabólico asociado. Horizonte Médico (Lima), 19(2), 57–69. https://doi.org/10.24265/horizmed.2019.v19n2.08
Sección
Artículos originales
Licencia
El contenido de la Revista Horizonte Médico es de libre acceso, de manera gratuita, con el fin de divulgar los trabajos y experiencias desarrolladas en el área biomédica y de salud pública realizados a nivel nacional e internacional, promoviendo la investigación en los diferentes campos de la medicina humana.

La Revista Horizonte Médico mantiene los derechos de autoría, distribución y reproducción de los artículos publicados.

Todos los artículos aceptados y publicados en la Revista Horizonte Médico se distribuyen gratuitamente bajo los términos de la licencia Creative Commons Attribution 4.0 International (CC BY 4.0).