Efecto antinociceptivo y antiinflamatorio de la metformina en modelos experimentales en ratón
Resumen
Objetivo: Analizar la actividad antiinflamatoria y antinociceptiva de la metformina en un evento agudo de inflamación-edema y dolor inducido en roedor. Materiales y métodos: Se utilizaron 198 ratones hembras. Se evaluó el efecto antiinflamatorio con la prueba de edema plantar inducido por carragenina en 64 ratones y, para evaluar el efecto sobre el dolor, se utilizó la prueba de placa caliente e inmersión de la cola, con 64 y 70 ratones, respectivamente. En ambos casos se tuvieron grupos controles, placebo y experimentales. Para el análisis se emplearon las pruebas de Shapiro-Wilk, de ANOVA de una cola, de Tukey y correlación de Pearson. Resultados: En el edema de la pata por carragenina, los grupos metformina 50 y 150 mg/kg presentaron efecto antiinflamatorio a la segunda y tercera hora. En la prueba de placa caliente, los grupos metformina 100, 200 y 250 mg/kg presentaron efecto analgésico en la segunda y cuarta hora. En la prueba de inmersión de cola, los grupos metformina 100, 150, 200 y 250 mg/kg presentaron efecto analgésico desde el minuto 15 hasta terminar el experimento; además, el grupo metformina 150 mg/kg tuvo efecto estadísticamente equivalente al grupo control de morfina 10 mg/kg. Conclusiones: Se demuestra la actividad antiinflamatoria y antinociceptiva aguda de metformina a diferentes dosis, en modelos experimentales con ratones. 
##plugins.generic.usageStats.downloads##
##plugins.generic.usageStats.noStats##
Citas
1. Paul SM, Mytelka DS, Dunwiddie CT, Persinger CC, Munos BH, Lindborg SR, et al. How to improve R&D productivity: the pharmaceutical industry's grand challenge. Nat Rev Drug Discov. 2010; 9(3): 203-14.

2. Munos B. Lessons from 60 years of pharmaceutical innovation. Nat Rev Drug Discov. 2009; 8(12): 959–68.

3. Keiser MJ, Setola V, Irwin JJ, Laggner C, Abbas A, Hufeisen SJ, et al. Predicting new molecular targets for known drugs. Nature. 2009; 462(7270): 175–81.

4. Wolff T, Miller T, Ko S. Aspirin for the primary prevention of cardiovascular events: an update of the evidence for the U.S. preventive services task force. Ann Intern Med. 2009; 150(6): 405-10.

5. Sirven JI. New uses for older drugs: the tales of aspirin, thalidomide, and gabapentin. Mayo Clin Proc. 2010; 85(6): 508–11.

6. Cuzick J, Otto F, Baron JA, Brown PH, Burn J, Greenwald P, et al. Aspirin and non-steroidal anti-inflammatory drugs for cancer prevention: an international consensus statement. Lancet Oncol. 2009; 10(5): 501–7.

7. Mancera-Romero J, Hormigo-Pozo A, Fernández-Arquero J, Baca-Osorio A, Aparicio-Cervantes MJ, Muñoz-González L. Use of glucose-lowering drugs in a primary care setting in Malaga during the years 2008-2012. Semergen. 2014; 40(1): 4–11.

8. Scarpello JH, Howlett HC. Metformin therapy and clinical uses. Diab Vasc Dis Res. 2008; 5(3): 157–67.

9. Lamanna C, Monami M, Marchionni N, Mannucci E. Effect of metformin on cardiovascular events and mortality: a meta- analysis of randomized clinical trials. Diabetes Obes Metab. 2011; 13(3): 221–8.

10. Hoeger K, Davidson K, Kochman L, Cherry T, Kopin L, Guzick DS. The Impact of metformin, oral contraceptives, and lifestyle modification on polycystic ovary syndrome in obese adolescent women in two randomized, placebo-controlled clinical trials. J Clin Endocrinol Metab. 2008; 93(11): 4299–306.

11. Alexánderson-Rosas E, Martínez AJ, Ochoa-López JM, Calleja- Torres R, Sierra-Fernández C, Iñarra-Talboy F, et al. Efecto del tratamiento combinado con metformina/glimepirida sobre la función endotelial en pacientes con diabetes mellitus tipo 2 evaluados mediante PET. Arch Cardiol México. 2009; 79(4): 149–256.

12. Caballero AE, Delgado A, Aguilar-Salinas CA, Herrera AN, Castillo JL, Cabrera T, et al. The differential effects of metformin on markers of endothelial activation and inflammation in subjects with impaired glucose tolerance: a placebo-controlled, randomized clinical trial. J Clin Endocrinol Metab. 2004; 89(8): 3943–8.

13. Guppy A, Jamal-Hanjani M, Pickering L. Anticancer effects of metformin and its potential use as a therapeutic agent for breast cancer. Future Oncol. 2011; 7(6): 727–36.

14. Wiley J. Current Protocols in Pharmacology [Internet]. Disponible en: http://onlinelibrary.wiley.com/book/10.1002/0471141755/homepage/Archive.html

15. Montes J, Pacheco K, Figueroa J, Inga V, Ortega Y, Flores C, et al. Análisis de la actividad antiinflamatoria y analgésica aguda de la metformina mediante el Test de Formalina. Horiz Med. 2012; 12(2).

16. Galduf J, Gallego C, Escrivá J, Montserrat V. Ensayos clínicos: Elaboración de una lista-guía para la valoración de protocolos. Farm Hosp. 1995; 19(1): 17–23.

17. Mujica PY. Procesamiento de señales in vivo, edición audivisual y creación de un prototipo de software educativo para simulación de experimentos en farmacología [Tesis]. Universidad San Martín de Porres: Lima. Facultad de Medicina Humana; 2009.

18. Van Wilgenburg H. Microlabs for Pharmacologists [Internet]. Disponible en: https://norecopa.no/norina/microlabs-for- pharmacologists

19. National Research Council (US) Institute for Laboratory Animal Research. International Guiding Principles for Biomedical Research Involving Animals (1985: Washington (DC): National Academies Press US; 2004.

20. Zimmermann M. Ethical guidelines for investigations of experimental pain in conscious animals. Pain. 1983; 16(2): 109–10.

21. Chi SC, Jun HW. Anti-inflammatory activity of ketoprofen gel on carrageenan-induced paw edema in rats. J Pharm Sci. 1990; 79(11): 974–7.

22. Matsumoto K, Obara S, Kuroda Y, Kizu J. Anti-inflammatory effects of linezolid on carrageenan-induced paw edema in rats. J Infect Chemother. 2015; 21(12): 889–91.

23. Li YY, Huang SS, Lee MM, Deng JS, Huang GJ. Anti-inflammatory activities of cardamonin from Alpinia katsumadai through heme oxygenase-1 induction and inhibition of NF-κB and MAPK signaling pathway in the carrageenan-induced paw edema. Int Immunopharmacol. 2015; 25(2): 332–9.

24. Necas J, Bartosikova L. Carrageenan: a review. Vet Med (Praha). 2013; 58(4): 187-205.

25. Gan TJ. Diclofenac: an update on its mechanism of action and safety profile. Curr Med Res Opin. 2010; 26(7): 1715–31.

26. Hattori Y, Suzuki K, Hattori S, Kasai K. Metformin inhibits cytokine-induced nuclear factor κb activation via AMP- activated protein kinase activation in vascular endothelial cells. Hypertension. 2006; 47(6): 1183–8.

27. Koh SJ, Kim JM, Kim IK, Ko SH, Kim JS. Anti-inflammatory mechanism of metformin and its effects in intestinal inflammation and colitis-associated colon cancer. J Gastroenterol Hepatol. 2014; 29(3): 502–10.

28. Arai M, Uchiba M, Komura H, Mizuochi Y, Harada N, Okajima K. Metformin, an antidiabetic agent, suppresses the production of tumor necrosis factor and tissue factor by inhibiting early growth response factor-1 expression in human monocytes in vitro. J Pharmacol Exp Ther. 2010; 334(1): 206–13.

29. Isoda K, Young JL, Zirlik A, MacFarlane LA, Tsuboi N, Gerdes N, et al. Metformin inhibits proinflammatory responses and nuclear factor-κb in human vascular wall cells. Arterioscler Thromb Vasc Biol. 2006; 26(3): 611–7.

30. Gómez-García A, Martínez Torres G, Ortega-Pierres LE, Rodríguez-Ayala E, Álvarez-Aguilar C. Rosuvastatina y metformina reducen la inflamación y el estrés oxidativo en pacientes con hipertensión y dislipemia. Rev Esp Cardiol. 2007; 60(12): 1242–9.

31. Deans KA, Sattar N. "Anti-inflammatory" drugs and their effects on type 2 diabetes. Diabetes Technol Ther. 2006; 8(1): 18–27.

32. Brunton LL, Lazo JS, Parket KL. Goodman & Gilman: Las bases farmacológicas de la terapéutica. 12da ed. McGraw Hill Mexico; 2012.

33. Hall JE. Guyton y Hall. Tratado de fisiología médica. 12da ed. Elsevier Health Sciences; 2011.

34. Le Bars D, Gozariu M, Cadden SW. Animal models of nociception. Pharmacol Rev. 2001; 53(4): 597–652.

35. Verma S, Mundkinajeddu D, Agarwal A, Chatterjee SS, Kumar V. Effects of turmeric curcuminoids and metformin against central sensitivity to pain in mice. J Tradit Complement Med. 2016; 7(2): 145-51.

36. Ortiz MI. Blockade of the antinociception induced by diclofenac, but not of indomethacin, by sulfonylureas and biguanides. Pharmacol Biochem Behav. 2011; 99(1): 1–6.

37. Ortiz MI. Metformin and phenformin block the peripheral antinociception induced by diclofenac and indomethacin on the formalin test. Life Sci. 2012; 90(1–2): 8–12.

38. Ananthakrishnan AN, Cagan A, Cai T, Gainer VS, Shaw SY, Churchill S, et al. Diabetes and the risk of infections with immunomodulator therapy in inflammatory bowel diseases. Aliment Pharmacol Ther. 2015; 41(11): 1141–8.

39. Dermanovic DV, Hrabac P, Skegro D, Smiljanic R, Dobrota S, Prkacin I, et al. The impact of neuropathic pain and other comorbidities on the quality of life in patients with diabetes. Health Qual Life Outcomes. 2014; 12(1): 171.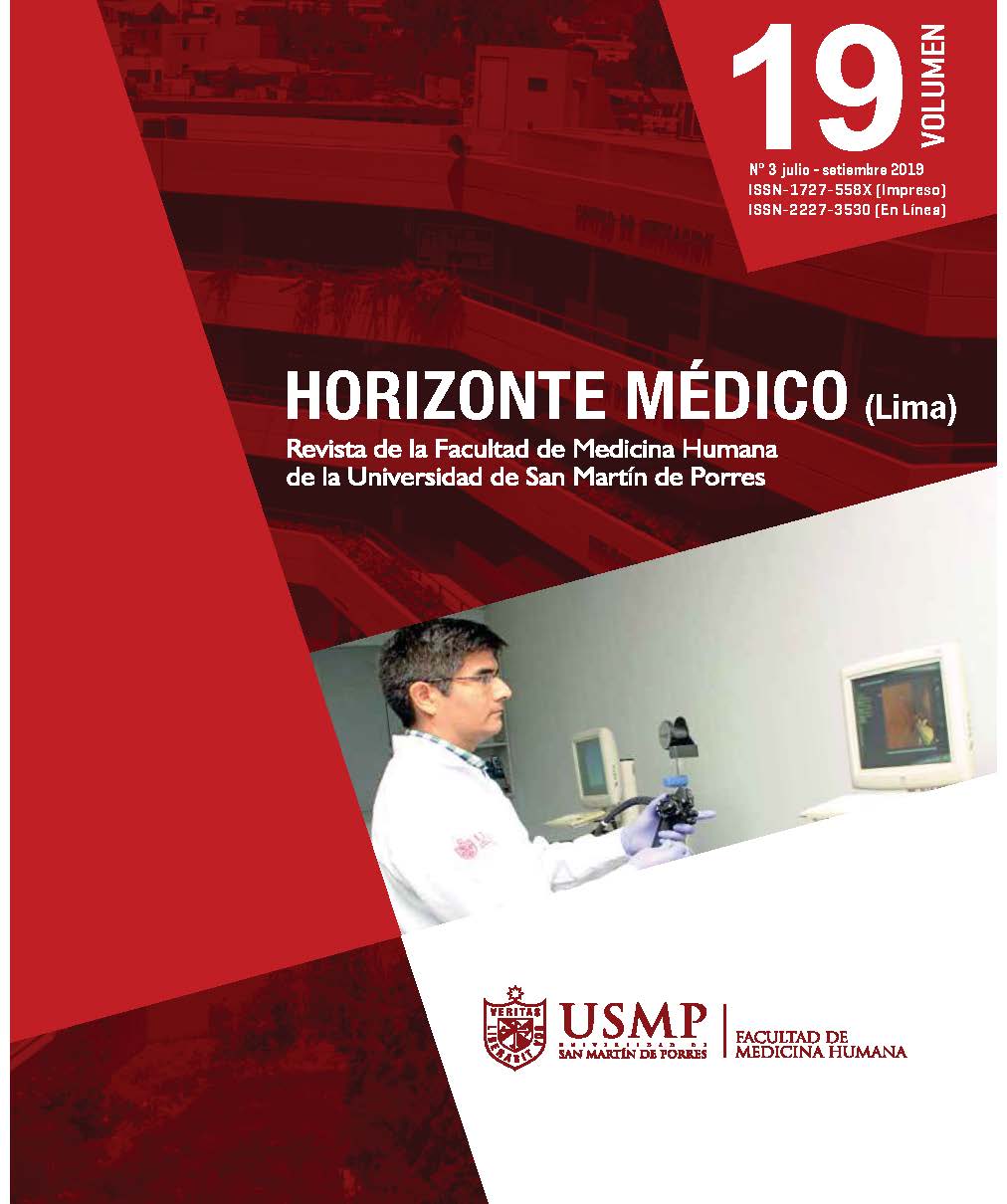 Sección
ARTÍCULOS ORIGINALES
Esta obra está bajo licencia internacional
Creative Commons Reconocimiento 4.0
.
El contenido de la Revista Horizonte Médico es de libre acceso, de manera gratuita, con el fin de divulgar los trabajos y experiencias desarrolladas en el área biomédica y de salud pública realizados a nivel nacional e internacional, promoviendo la investigación en los diferentes campos de la medicina humana.

La Revista Horizonte Médico mantiene los derechos de autoría, distribución y reproducción de los artículos publicados.

Todos los artículos aceptados y publicados en la Revista Horizonte Médico se distribuyen gratuitamente bajo los términos de la licencia Creative Commons Attribution 4.0 International (CC BY 4.0).