Edema agudo de pulmón de reentrada a gran altitud
Resumen
El edema agudo de pulmón de altura es una condición médica potencialmente mortal. Se conoce también como edema agudo de pulmón de altura "de reentrada" y puede ocurrir en residentes de la altura que retornan de una estadía en una zona de menor altitud. Presentamos el caso de un paciente de sexo masculino de 14 años de edad, nativo y residente de la ciudad de El Alto (La Paz, Bolivia), a 4090 metros sobre el nivel del mar, que presenta un cuadro de edema agudo pulmonar de altura a su regreso de una localidad a 500 metros sobre el nivel del mar. Este paciente requirió tratamiento intensivo y tuvo una evolución favorable.
Descargas
Los datos de descargas todavía no están disponibles.
Citas
1. Bhagi S, Srivastava S, Singh SB. High-altitude pulmonary edema: review. J Occup Health. 2014; 56(4): 235-43.

2. Jones BE, Stokes S, McKenzie S, Nilles E, Stoddard GJ. Management of high altitude pulmonary edema in the Himalaya: a review of 56 cases presenting at pheriche medical aid post (4240 m). Wilderness Environ Med. 2013; 24(1): 32-6.

3. Fulco CS, Beidleman BA, Muza SR. Effectiveness of preacclimatization strategies for high-altitude exposure. Exerc Sport Sci Rev. 2012; 41(1): 55-63.

4. Srivastava S, Dwivedi S. Significance of renin angiotensin aldosterone system (RAAS) pathway in high altitude pulmonary edema (HAPE) susceptibility. J Clin Mol Endocrinol. 2016; 1(3): 1-4.

5. Netzer N, Strohl K, Faulhaber M, Gatterer H, Burtscher M. Hypoxiarelated altitude illnesses. J Travel Med. 2013; 20(4): 247-55.

6. Gupta RK, Himashree G, Singh K, Soree P, Desiraju K, Agrawal A, et al. Elevated pulmonary artery pressure and brain natriuretic peptide in high altitude pulmonary edema susceptible nonmountaineers. Sci Rep. 2016; 6: 21357.

7. Bhattachar SA, Singhal S, Paliwal V, Malhotra VK, Kotwal A. High altitude pulmonary edema (HAPE) with pulmonary embolism. Hearth India. 2016; 4: 23-5.

8. Luks AM, Swenson ER, Bärtsh P. Acute high-altitude sickness. Eur Respir Rev. 2017; 26(143).

9. Pandey P, Lohani B, Murphy H. Pulmonary embolism masquerading as high altitude pulmonary edema at high altitude. High Alt Med Biol. 2016; 17(4): 353-8.

10. Dehnert C, Mereles D, Greiner S, Albers D, Scheurlen F, Zügel S, et al. Exaggerated hypoxic pulmonary vasoconstriction without susceptibility to high altitude pulmonary edema. High Alt Med Biol. 2015; 16(1): 11-7.

11. Lorenzo FR, Huff C, Myllymäki M, Olenchock B, Swierczek S, Tashi T, et al. A genetic mechanism for tibetan high-altitude adaptation. Nat Genet. 2014; 46(9): 951-6.

12. Bärtsch P, Swenson ER. Clinical practice: acute high-altitude illnesses. N Engl J Med. 2013; 368(24): 2294-302.

13. Luks AM, McIntosh SE, Grissom CK, Auerbach PS, Rodway GW, Schoene RB, et al. Wilderness medical society practice guidelines for the prevention and treatment of acute altitude illness: 2014 update. Wilderness Environ Med. 2014; 25 (Suppl. 4): S4-14.

14. Spielvogel H. Edema agudo pulmonar y de altura. Cuadernos. 2006; 51(2): 73-9.

15. Cerny D, Rexhaj E, Bouillet E, Soria R, Meister T, Villena M, et al. Sustained hypoxic pulmonary hypertension and systemic vascular dysfunction in high-altitude dwellers prone to re-entry high altitude pulmonary edema, improvement by anti-oxidants. FASEB J. 2015; 29(1): 1051-6.

16. Zafren K. Prevention of high altitude illness. Travel Med Infect Dis. 2014; 12(1): 29-39.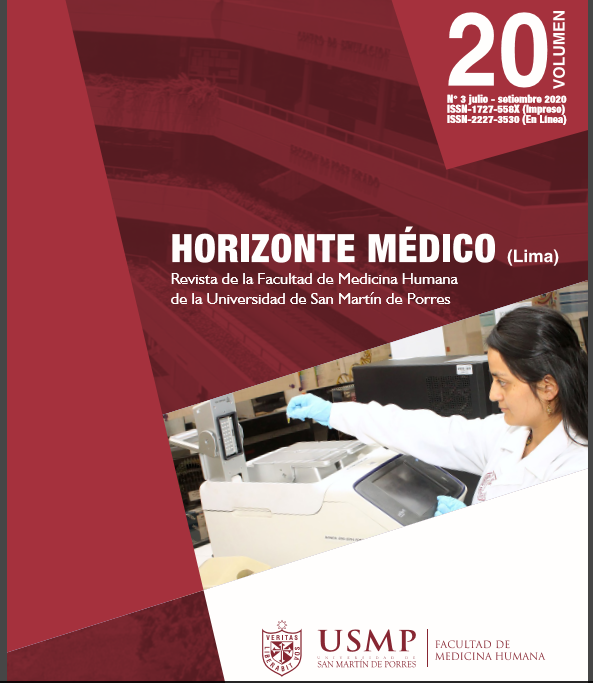 Cómo citar
Viruez-Soto, J. A., & Tinoco-Solórzano, A. (2020). Edema agudo de pulmón de reentrada a gran altitud. Horizonte Médico (Lima), 20(3), e943. Recuperado a partir de https://www.horizontemedico.usmp.edu.pe/index.php/horizontemed/article/view/943
Licencia
Derechos de autor 2020 José Antonio Viruez-Soto, Amílcar Tinoco-Solórzano
Esta obra está bajo una licencia internacional Creative Commons Atribución 4.0.
El contenido de la Revista Horizonte Médico es de libre acceso, de manera gratuita, con el fin de divulgar los trabajos y experiencias desarrolladas en el área biomédica y de salud pública realizados a nivel nacional e internacional, promoviendo la investigación en los diferentes campos de la medicina humana.

La Revista Horizonte Médico mantiene los derechos de autoría, distribución y reproducción de los artículos publicados.

Todos los artículos aceptados y publicados en la Revista Horizonte Médico se distribuyen gratuitamente bajo los términos de la licencia Creative Commons Attribution 4.0 International (CC BY 4.0).